Industrial Competitiveness and Growth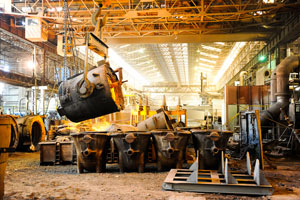 The Industrial Competitiveness and Growth Division (ICGD) works to support a diversified and growing manufacturing sector. In so doing, ICGD programs seek to raise competitiveness, grow exports, retain and grow jobs and build the economic linkages between the manufacturing sector and other production and services sectors of the economy.
The work of the ICGD is underpinned by the Re-Imagining Industrial Strategy which was presented by the Minister of Trade, Industry and Competition, Mr E Patel and approved by Cabinet in June 2019. The Reimagined Industrial Strategy is the centre piece of government's vision coordinated by the Presidency and puts emphasis on concrete actions. It presents a multipronged approach to industrial development with emphasis on building partnerships with the private sector in order to unleash job-creating investment. The modality to operationalise the Reimagined Industrial Strategy is the application of a master-planning process that seeks to create a shared vision together with industry, government and labour. The Reimagined Industrial Strategy envisages that the adoption of masterplans will harness the commitment by all role-players, stakeholders and beneficiaries towards implementing the actions required to fulfil the vision.
ICGD is divided into two sub-programmes, namely:
Industrial Competitiveness develop policies, strategies and programmes to strengthen the ability of manufacturing and other value-added sectors to create decent jobs and increase value-addition and competitiveness in domestic and export markets, as set out in the Re-imagined Industrial Strategy.The following business units fall under this sub-programme:Africa Regional Industrial Development: Contributes and supports the Africa and SADC industrialisation development agenda and promotes intra-regional growth and investment diversification to the mutual advantage of South Africa and its African partners.

Industrial Policy: Coordinates monitoring and development, research and analysis which contributes to the Reimagined Industrial Strategy and captures this in quarterly and annual reports including undertaking policy research and development for future programmes.

Industrial Procurement and Industrial Participation: Manages and facilitates local content policy which entails designating products for local production in the public procurement system. The chief directorate also develops and manages the National Industrial Participation Programme (NIPP), which is an offset programme used internationally in public procurement.

Technical Infrastructure: Coordinates TI agencies, develops and implements coherent policies, strategies and programmes that strengthen the ability of manufacturing and other value-added sectors to compete effectively in domestic and export markets.

Customised Sector Programmes develop and implement high-impact sector strategies focused on manufacturing and other value-added sectors to create decent jobs and increase value-addition and competitiveness in domestic and export markets, as set out in the Re-imagined Industrial Strategy.

The following business units fall under this sub-programme:

Aerospace and Defence: Focuses on building a competitive aerospace and defence industry through the support of: high value manufacturing, cluster development, transformation and broadening the supplier base.

Agro Processing & Resource Based Industries: Oversees the development of the various sub-sectors in agro-processing by providing strategic interventions to increase production, competition and grow exports.

Automotives: Leads the development of and oversees the management of an industry support framework for the Automotives manufacturing sector.

Eletrotechnical Industries and White Goods: Develops and reviews sector strategies and action plans, monitors progress on implementation and continuously engages stakeholders to strengthen the ability of the sector to create employment, retain existing jobs and increase value addition and competitiveness in both domestic and export markets.

Chemicals, Cosmetics, Plastics and Pharmaceuticals: Designs and implements policies, strategies and interventions to improve the industrial competitiveness of the Chemicals, Cosmetics, Pharmaceuticals and Plastics sectors in partnership with stakeholders to create decent jobs, increase value-addition and competitiveness in domestic and export markets.

Green Industries & Energy Efficiency: Designs and implements policies, strategies and programmes to promote economic growth, job creation and transformation that are presented by the unique opportunity of structural change towards a green economy.

Metal Fabrication, Capital & Rail Transport Equipment: Designs and implements policies, strategies and interventions to improve the industrial competitiveness of the Metal Fabrication, Capital and Rail Transport Equipment sectors in partnership with stakeholders in order to directly and/or indirectly contribute to the creation of decent jobs, together with increase in manufacturing value-addition.

Primary Minerals Processing & Construction: Develops, supports and implements policies, strategies and interventions that increase the growth and competitiveness of the Primary Minerals Processing, Construction and Oil and Gas sectors in partnership with stakeholders in order to contribute to increased value addition, localisation and the direct and indirect creation of decent jobs whilst maintaining and attracting sustainable investment and employment in the sectors

Textiles, Clothing, Leather and Footwear: Manages and reviews interventions to improve industrial competitiveness in clothing, textile, footwear and leather of the SA economy and build partnerships between Government and its social partners