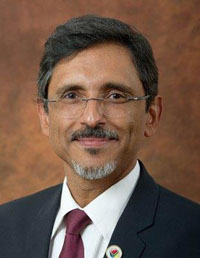 Mr Ebrahim Patel, Minister of Trade and Industry
Ebrahim Patel was appointed Minister of Trade and Industry on 29 May 2019 by President of the Republic of South Africa Cyril Ramaphosa, combining the portfolios of Economic Development and Trade and Industry. Prior to this, he was South Africa's Minister of Economic Development, from May 2009.
During his 10 years as Economic Development Minister, he reshaped competition policy through negotiating far-reaching public interest commitments from companies in large mergers; supporting strong action by the regulators against cartels and collusion; and drafting new legislation to address economic concentration and abuse of dominance in the economy (adopted by Parliament during 2018).
Minister Patel worked with a number of other ministries to lead the state's approach to infrastructure development (through the Presidential Infrastructure Coordinating Commission, the technical Secretariat of which he headed).
His responsibilities since 2010 included overall strategic direction to the Industrial Development Corporation (IDC). Under his leadership, the IDC expanded its approvals for new investment to R110 billion over the period, helping to create or save hundreds of thousands of jobs in South Africa, expand operations in the rest of Africa, support the development of renewable energy and focus on new industrial development (in areas such as food, car-making, steel production, clothing and textiles, and the fourth industrial revolution). He directed the merger of separate small business funding institutions into the Small Enterprise Finance Agency (sefa).
Through his oversight of the work of International Trade Administration Commission (ITAC), Minister Patel introduced a policy directive to enable greater use of scrap metal in local foundries and steel mini-mills, which helped to attract new investment and support local industrial capacity. He chaired the preparatory committee for the inaugural Presidential Investment Conference convened in October 2018.
His Ministry coordinated the work on the New Growth Path (NGP) economic strategy for South Africa, adopted by Cabinet in October 2010, which identified the centrality of employment as a development strategy and set out a number of jobs drivers in the economy. About 2,9 million new jobs were created in South Africa since the adoption of the NGP in 2010 to December 2018.
Minister Patel also coordinated the conclusion of a number of social accords between government and other social partners on training, the green economy, youth employment and local procurement, in the period 2011 to 2013.
Minister Patel was born in 1962. His mother worked for many years in clothing factories in Cape Town. He had a long history of involvement in anti-apartheid activism, playing an active role in student, youth, community and worker protests. He was detained on three occasions during the apartheid era without trial and was held under the Internal Security Act and the Terrorism Act.
During the democratic period, he contributed to social dialogue, labour and employment matters, having led organised labour's negotiations on economic policy in South Africa. In this context, he was closely involved in drafting a number of broad accords on economic policy matters. He has been involved in the textile industry in the organisation of labour and in dealing with social, trade and industrial matters. He has served for more than a decade on the Governing Body of the United Nations agency, the International Labour Organisation (ILO), and led global negotiations on matters as diverse as policy and standard-setting on human resources development, cooperatives, the employment relationship, globalisation and social justice and the Global Employment Agenda.
Minister Patel served as a nominee of President Nelson Mandela on South Africa's first Financial and Fiscal Commission. He also served on the National Economic Development and Labour Council (Nedlac), the Council of Higher Education (CHE) and the Council of the University of Cape Town for a number of years. He studied at the University of the Western Cape and the University of Cape Town.
Contact Details
Ms Tshegofatso Masoga
Private Secretary
Tel: 012 394 3797
E-mail: TMasoga@thedtic.gov.za
Ms Kagiso Malebye
Assistant Private Secretary
Tel: 012 394 5253
E-mail: KCEMalebye@thedtic.gov.za
Ms Labeeqah Schuurman
Chief of Staff
Tel: 012 394 1578
E-mail: LSchuurman@thedtic.gov.za
Ms Tsholofelo Mushi
Cabinet and Parliamentary Liaison
Tel: 012 394 3458
E-mail: MTMushi@thedtic.gov.za
Please direct inquiries/correspondence to: Ministry@thedtic.gov.za
---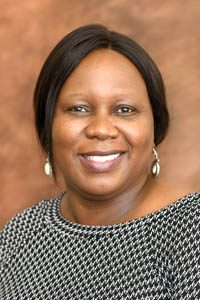 Deputy Minister Nomalungelo Gina
Nomalungela Gina is the Deputy Minister of Trade Industry and Economic Development Department of the Republic of South Africa from 29 May 2019.
Gina is a teacher by profession and has taught at UThungulu district for more than 15 years, she ascended to the school leadership position in that period as well. She has been a member of South African Democratic Teachers Union (SADTU), site steward and a North Coast Regional Education Convener for many years.
Gina spearheaded the teacher development, curriculum management programmes and women in leadership seminars in KwaZulu Natal.
Gina was a member of the KZN Provincial Executive Committee of SADTU and a Deputy Chairperson of this organisation. Gina led a lot of heroic teachers' battles in relation to their working conditions of employment including the leading role in public sector wage negotiation increases. She has always been an active member of the ANC in Richards Bay under Musa Dladla ANC region.
Gina was nominated her for deployment to National Parliament in 2009 and has been a Member of Parliament for the last10 years. She has served in various committees in the social cluster. She served in the Higher Education and Training, as well as Basic Education Portfolio Committee as a Whip. In 2014, she was appointed as the Chairperson of Basic Education Portfolio Committee until 2019. In the 5th Administration, she was the Convener of the social cluster in Parliament
Gina is serving in the Provincial Executive Committee of the South African Communist Party and in the last Congress of 2018, elected as the Provincial Deputy Chairperson of the SACP. She was elected as the Provincial Executive Committee Member in the last Conference of the ANC in KwaZulu Natal. She is currently serving in both structures.
Gina is from Ndwedwe area in ILembe District Municipality, hence her passion for rural development and upliftment of disadvantaged communities. She matriculated at Inanda Seminary and obtained her teaching degree at the University of Zululand. She is a loving mother to two young men.
Contact Details
Head of Office: Nozipho Xulu
Office: +27 12 394 1982
Cell: +27 66 024 9983
Email: NXulu@thedti.gov.za
Private Secretary: Thandile Mbana
Office: +27 12 394 5667
Cell: +27 66 290 6999
Email: TMbana@thedti.gov.za
---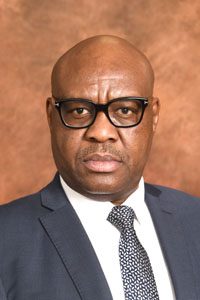 Deputy Minister Fikile Majola
Mr Fikile Majola currently serves as the Deputy Minister of Trade and Industry (the dti), Republic of South Africa following his appointment on 29 May 2019.
He is a member of the 6th Parliament as a representative of the African National Congress (ANC). He also served as a member of the 5th Parliament and during this period he served as the Chairperson of the portfolio committee on Energy until 2019.
He actively participated in many structures of the liberation movement during apartheid, such as the Vaal Youth Congress (VAYCO), South African Youth Congress (SAYCO), Southern Transvaal Youth Congress (STYCO), and the United Democratic Front in the Vaal after the formation of the UDF in 1983.
Deputy Minister Majola joined the National Education Health and Allied Workers Union (NEHAWU), as its organiser in the Vaal Branch in September 1989 and was elected Regional Secretary of NEHAWU Western Transvaal in 1992. He was seconded to NEHAWU Head Office in 1993 to work in its Secretariat Office than later became the Acting Assistant General Secretary in 1994 and was eventually elected permanently to the position in 1995. Majola became the General Secretary of NEHAWU in 1998 and was re-elected to this position in 2001, 2004, 2007 and again in 2010. He served in this capacity until 2014 and remains the longest serving General Secretary in the history of the union.
Majola has also served as a Central Executive Committee (CEC) member of COSATU from 1995 until 2014 as well as being a titular for Africa of Public Services International, International Federation of Public Services Union. In March 2011 he chaired the Ministerial Task Team on SETA Performance. Its mandate was to assess and make recommendations on SETAs' performance, governance structures and operational processes.
Majola continues to be an active member of the ANC and South African Communist Party (SACP) and he currently serves as a member of the Central Committee and Politburo of the SACP. In the beginning of 2019 he was appointed as the Convener of the ANC's Sedibeng Regional Task Team in Gauteng.
Deputy Minister Majola obtained his Honours in Public Administration from the University of Western Cape.
Contact details:
Ms Sinenhlanhla Ntanzi
Private Secretary
Office: +27 12 394 3072
Cell: +27 76 521 3058
Email: SNtanzi@thedti.gov.za
Mr Thulani Skosana
Head of Office
Cell: +27 66 024 9952
Tel: +27 12 394 3528
Email: TSSkosana@thedti.gov.za
---