Automotive Industry Representatives Registering Progress at Automechanika Exhibition in Johannesburg
A group of business representatives in the automotive industry that are showcasing at the South African Pavilion during the Automechanika Exhibition are registering good progress. The business representatives are funded by the Department of Trade of Industry (the dti) to showcase at the Automechanika Johannesburg, which is South Africa's leading international trade fair for the automotive service industry targeting trade visitors from the Sub-Saharan region.

Automechanika Johannesburg is taking place at the Johannesburg Expo Centre Nasrec until tomorrow.

According to the Executive Manager of Automotive Industry Export Council (AIEC) Dr Norman Lamprecht, the exhibition is an effective way of establishing and building business relationships and forms the foundation for business strategies.

Dr Lamprecht said the AIEC aims to develop and promote exports by assisting companies in the automotive sector that are currently exporting, may be interested in exporting in future, or may become capable of exporting in future.

The National Key Accounts Sales Manager of  GlueDevil, Ms Chantelle Gibson says they are making good progress in creating brand awareness both in South Africa and Africa. She adds the stand is well received and they have met new potential clients from both domestic and outside the South African boarders.

The President of the Motor Industry Association of Zimbabwe, Mr Simplisio Shamba is also participating in the exhibition as an importer funded by the dti as part of its Inward Buying Mission. He says he intends to meet potential partners and network with the captains of industry. According to him, the Zimbabwean vehicles are manufactured in South Africa and they would like to start manufacturing the components in Zimbabwe.

"We have met with bearings, brake pads, vehicle lights, ignition coils for vehicles manufacturers. These are some of the parts that we need for our vehicles in Zimbabwe and once we partner with South African companies all things should work well," says Shamba.

Mr Satbir Singh Anand from the United Arab Emirates is also part of the inward buying mission and says he is seeing a lot of opportunities. He adds that South Africa has not been fully explored and there is a lot of potential which has to be explored and so far there is good prospects and hope for the best even beyond the show.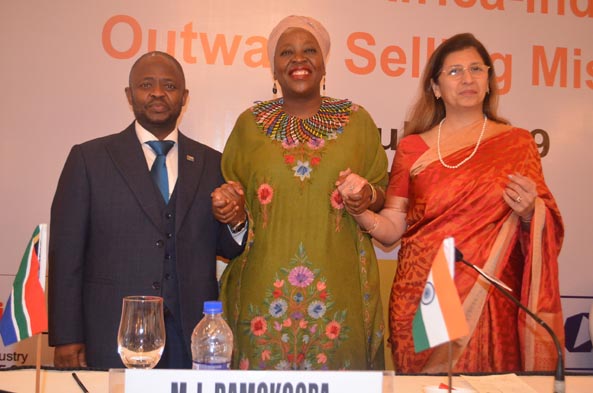 Importers from Zimbabwe and the UAE who are part of the Inward Buying Mission by the dti at the Automechanika Exhibition.
Enquiries:
Mr Sidwell Medupe – Departmental Spokesperson
Tel : (012) 394 1650
Mobile: 079 492 1774
E-mail: MSMedupe@thedti.gov.za
Follow us on Twitter: @the_dti
Share this: