The implementation of the African Continental Free Trade Area (AfCFTA) ushers in a significant milestone in our collective journey towards establishing a unified African market, promoting trade, and propelling sustainable and inclusive growth across the continent. This was said by the Director of Africa Bilateral Economic Realtions at the Department of Trade, Industry and Competition (the dtic), Mr Calvin Phume, during the AfCFTA awareness workshop which took place in Johannesburg.
The workshop was part of a series that the dtic is rolling out nationally from May-July 2023.  The inaugural workshop took place in KwaZulu-Natal last week and was a rousing success.  Businesspeople who attended the session welcomed the progress and benefits that the AfCFTA will afford their respective businesses once implemented.
According to Phume, the AfCFTA presents a distinctive opportunity for Africa to achieve economic emancipation, resulting in job creation, poverty alleviation, improved welfare, and sustainable development. He further stated that the AfCFTA represents a remarkable achievement, signifying South Africa's shared commitment to harnessing the potential of trade to drive growth, generate employment, and uplift the lives of millions of people throughout the continent.
"The AfCFTA strives to ensure inclusivity, particularly for women, youth, and those residing in rural areas, while focusing on the development of small and medium-sized enterprises (SMEs) and overall industrialisation of Africa. As a flagship project of Agenda 2063, the AfCFTA aims to establish a unified African market for goods and services, facilitated by the free movement of individuals, capital, and investments. This integration will further promote sustainable and inclusive socio-economic development, gender equality, industrialisation, agricultural advancement, food security, and structural transformation," he stated.
Additionally, Phume emphasised that the workshop served as a crucial platform for equipping provincial stakeholders with the necessary knowledge and insights regarding the AfCFTA.
"By fostering awareness and understanding, we aim to empower participants to seize the abundant opportunities and benefits that the AfCFTA offers. The workshop showcased the government's unwavering commitment to ensuring that all regions and communities are well-informed and actively participate in this landmark initiative," said Phume.
The upcoming destination for the nationwide initiative of workshops promoting the African Continental Free Trade Area is Limpopo, scheduled for Friday, 9 June 2023.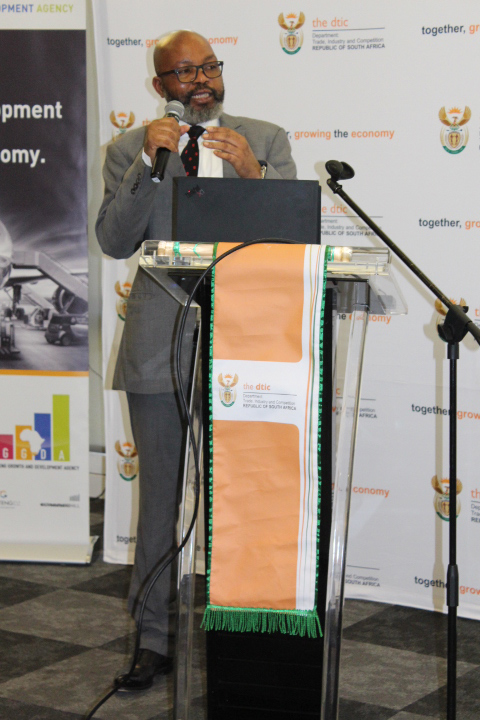 The Director of Africa Bilateral Economic Relations at the dtic, Mr Calvin Phume speaking at the African Continental Free Trade Area awareness workshop in Johannesburg.
Enquiries:
Bongani Lukhele – Director: Media Relations
Tel: (012) 394 1643
Mobile: 079 5083 457
WhatsApp: 074 2998 512
E-mail: BLukhele@thedtic.gov.za
Issued by: The Department of Trade, Industry and Competition (the dtic)
Share this: