Deputy Minister Gina Arrives in Abuja, Nigeria to Hold Key Meetings
The Deputy Minister of Trade and Industry, Ms Nomalungelo Gina has concluded the first-leg of her visit to Nigeria where she led a business delegation to the Future Energy Nigeria, WAPIC Conference and Expo 2019 that took place in Lagos over the past two days. She will continue with the second-leg of her visit in Abuja today where she will hold key bilateral meetings.

Gina says the first-leg of the visit went well as companies were able to network for businesses opportunities, met and interacted with potential business partners and established business relationships with other exhibitors in the energy sector.

"It was encouraging to see our businesspeople engaging and hearing them saying they had successful engagements that could see possible partnerships with their Nigerian counterparts. It shows that the goal of strengthening and deepening the economic, trade and investment relations between South Africa and Nigeria can be accomplished. We hope to see these leads turning into business transactions soon," says Gina.

Importantly, Gina says businesspeople should follow up on the leads they acquired to supplement the role that government has played to open up markets for their products and services. She adds that, hard work start now where they need to make sure partnerships and business transactions are realised.

According to her, the visit to Nigeria is building on the outcomes of the recent State Visit to South Africa by the President of Nigeria, Mr Muhammadu Buhari, where President Cyril Ramaphosa and President Buhari noted with satisfaction the economic cooperation between the two Republics and welcomed the steps to increase trade volumes as well as private sector investments.

To this end, Gina's engagements in Abuja will include meetings with the Minister of State Power, Mr Goddy Jedy-Agba, Minister of State of Industry, Trade and Investment, Ambassador Maryam Katagum, Executive Secretary (CEO) of the Nigerian Investment Promotion Commission, as well as the Chief Executive Officer of Nigerian Electricity Regulatory Commission, Professor James Momoh. Gina will be joined by the South African High Commissioner to Nigeria, Mr Thami Mseleku and other senior officials from her department.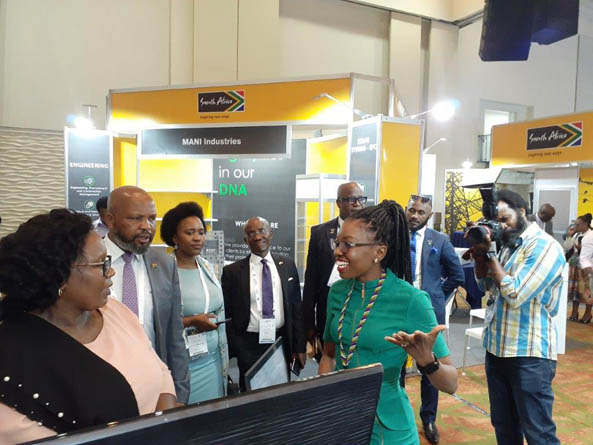 Deputy Minister Gina engaging with the South African businesspeople during the Future Energy Nigeria, WAPIC Conference and Expo 2019.
Enquiries:
Sidwell Medupe-Departmental Spokesperson
Tel: (012) 394 1650
Mobile: 079 492 1774
E-mail: MSMedupe@thedti.gov.za
Issued by: The Department of Trade and Industry
Follow us on Twitter: @the_dti
Share this: