Deputy Minister of Trade, Industry and Competition, Ms Nomalungelo Gina says there is still a lot of work that government needs to do, to support small black businesses in the country, to ensure they succeed and thrive in the cutthroat business world.  She was speaking during her 3rd day of a week long visit to the Western Cape businesses, as part of the Siyahlola Proggramme.  The programme is aimed as monitoring the performance of government supported businesses, but also specifically to assess how they have been affected by the Covid 19 pandemic.
One of the businesses visited is a youth owned company – Jacobs Jam, a start-up food processing and manufacturing business, which produces premium grade jam.
The company is owned by husband and wife team, with the wife Ms Christynn Jacob being the Managing Director who owns a 51%, stake while the husband Mr Nigel Jacobs has a 49% stake in the company and is the Technical Director.
Following a gruelling 3 years of knocking at different doors, they finally received funding  from government's Small Enterprise Finance Agency (SEFA) and additional business support services from the Small Enterprise Development Agency (SEDA). Today, they shared with Deputy Minister Gina, the difficulties they have had to face to set up their business. Top among them being that when you are a start up company funders insist on a track record, letters of intent from potential clients, the big retailers  in South Africa have not opened doors to give markets to small black start ups..
In response, Deputy Minister Gina said government has put a lot of systems in place which include policies, funding schemes and various other forms of support programmes in place, but opportunities to interact with the small businesses operators and hearing of their challenges on the ground reveals the complexities of the work that still lies ahead to ensure that the economy is truly inclusive.
"This tells us that there is a great need to always revisit our work to assess whether they enable us the tools to ensure we promote black excellence among entrepreneurs. We need to ensure that our systems encourag young entrepreneurs to enter the business space so that they help us to grow the economy of our country," she said.
Earlier, Gina also visited the Toronto Group's charcoal manufacturing plant which is still under construction in Wellington.  It is a 67% black-owned company, and will be among the biggest charcoal producers in the world. The project will benefit the economy through addressing unemployment problems in the area. Up to 150 direct jobs will be created for closeby townships of Hermon and Embekweni. Small black businesses will also benefit through sub-contracting opportunities which will further contribute indirect jobs. Once operational, the plant will produce up to 10 000 tons of charcoal annually. Deputy Minister Gina commended the company for its focus on localisation.
"I'm happy that the company has rescinded its decision to buy their manufacturing equipment from international companies and will now be sourcing them locally. Also encouraging to hear is how the manufacturing process  will assist in reaching vision 2030 National Development Plan goals  of creating a cleaner environment. As we understand it, the production process focuses on using alien invasive plants such as as the bluegum tree and eucalyptus," Gina said.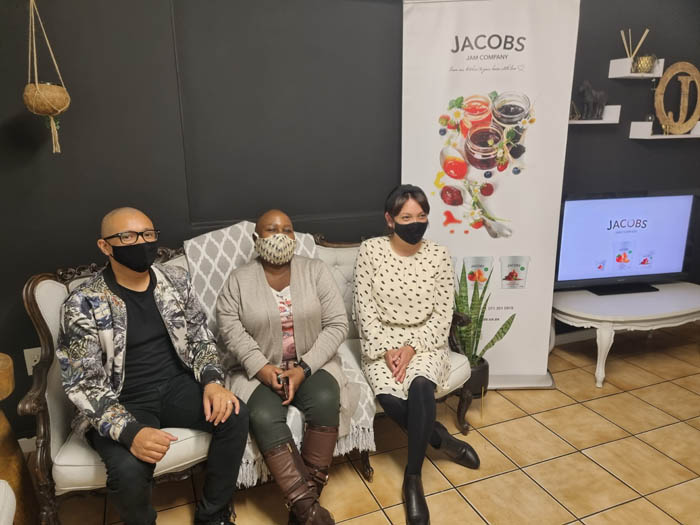 Deputy Minister Nomalungelo Gina and the owners  of Jacobs Jam company Mr Nigel Jacobs and Ms Christynn Jacob
Enquiries:
Sidwell Medupe-Departmental Spokesperson
Tel: (012) 394 1650
Mobile: 079 492 1774
E-mail: MSMedupe@thedti.gov.za
Issued by: The Department of Trade, Industry and Competition (the dtic)
Follow us on Twitter: @the_dti
Share this: