Frustration led wheelchair innovator to thrive in Business
The rugby wheelchair innovator Mr Jared Mcintyre says through his journey with the wheelchair rugby club and frustration of cost of equipment he was motivated enough to look for solutions that will benefit future disabled participants in the sport. Mcintyre was speaking at the World Intellectual Property Day celebrations hosted in Bloemfontein, Free State.

The event targeted the general public, youth, academics, small businesses, legal fraternity and government departments involved in the field of intellectual property.

Mcintyre, who suffered a spinal injury after diving into a lake while he was studying for a Business Management qualification at the Central University of Technology (CUT) said it was during this time that he came up with an idea to manufacture cost effective rugby wheelchairs that will move the sport forward in South Africa.

"I approached the CUT to manufacture these rugby wheelchairs at an affordable price that can be made accessible to anyone who had interest in the sport. We then trained two guys who were able to increase the volume and then commercialise, and adapted our manufacturing process to suit children with disabilities and adults who previously had limited participation in the sport," said Mcintyre.

Mcintyre added that he was in the process of registering intellectual property for the rugby wheelchair manufacturing process.

"Out of frustration I found a solution that ended up benefiting a lot of people and they are so many ideas out there that people think that are so small and insignificant but actually something like a small idea might be able to change a community or might be able to change someone's life. I will encourage people not to think of their ideas as insignificant or small but that they should pursue their dream and vision," he said.

The Senior Manager for Copyrights at the Companies and Intellectual Property Commission, Mr Kadi Petje said this year the Intellectual Property Day celebration was successful in pursuing government mandate of educating learners and innovators about Intellectual Property rights and systems.

"The school learners also tasted intellectual property flavour from a variety of partners which gave them a value for their participation. There was also a reflection on intellectual property and its socio economic importance in our daily lives and also the introductory provision responding to technological evolution so that our laws remain relevant to digital platforms," said Petje.

Issued by the dti in partnership with the Companies and Intellectual Property Commission, Department of Science and Technology, Central University of Technology, National Intellectual Property Management Office, Small Enterprise Development Agency, Free State Development Corporation, Technology Innovation Agency and The Innovation Hub.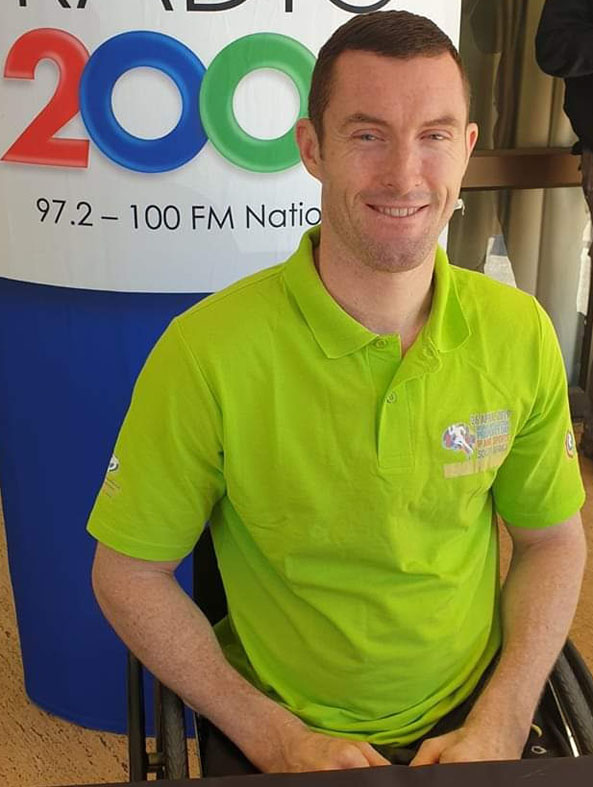 The rugby wheelchair innovator Mr Jared Mcintyre at the World Intellectual Property Day celebrations in Bloemfontein.
Enquiries:
Sidwell Medupe-Departmental Spokesperson
Tel: (012) 394 1650
Mobile: 079 492 1774
E-mail: MSMedupe@thedti.gov.za
Issued by: The Department of Trade and Industry
Follow us on Twitter: @the_dti
Share this: