The Acting Deputy Director-General of Industrial Competitiveness and Growth at the Department of Trade, Industry and Competition (the dtic), Dr Nimrod Zalk says the furniture industry master plan will go a long way in strengthening localisation and enhancing the competitiveness of the industry. Zalk was speaking at the prize-giving ceremony of the National Furniture Design Competition at the Buy Local Summit in Sandton.
A final year Industrial Designing University of Johannesburg student, Ms Tshepiso Motau romped home with the first prize in the annual competition, whose theme was Local is Lekker.
"The furniture sector is amongst those that are prioritised by business, labour and government as being able to contribute significantly to employment growth, in particular. Collectively we have been working on a furniture industry master plan that will strengthen and deepen localisation of furniture production in the short term, and lead to greater international competitiveness in the medium term," said Zalk.
He explained that the objectives of the master plan included increasing the demand for locally produced furniture in the South African market, but also in the broader Southern African and African markets, particularly in the context of the African Continental Free Trade Area.
"The master plan also aims to improve the competitiveness of the South African manufacturing industry, and to promote transformation through broad-based participation of workers, as well as black-owned and women-owned manufacturers in the value chains," he emphasised.
Zalk added that the South African furniture industry comprised of a few large firms and over 1 100 small formal firms. In addition, there are many more informal firms that engage in furniture production and related activities such as cabinet making.
"The sector faces a number of challenges such as the proliferation of imports. There is a significant amount evidence that suggests that the imports are entering the country through under-invoicing and mis-declaration of customs tariffs," said Zalk.
He stressed that interventions like the National Furniture Design Competition were   exceptionally important in enhancing the industry's medium term international competitiveness.
"Building the South African furniture design capabilities is therefore an important part of the resuscitation of the industry. In recognition of the importance of furniture design skills, the dtic has partnered with the South African Furniture Initiative and other sponsors to organise this competition," he said.
The main objectives of the competition are to raise and nurture furniture design capabilities in the country; raise the image of the furniture manufacturing industry in South Africa; grow the industry's competitiveness; and to reposition the industry for the production of high-value added products.
"We need to recognise that this competition is the right step in that direction but much more needs to be done," concluded Zalk.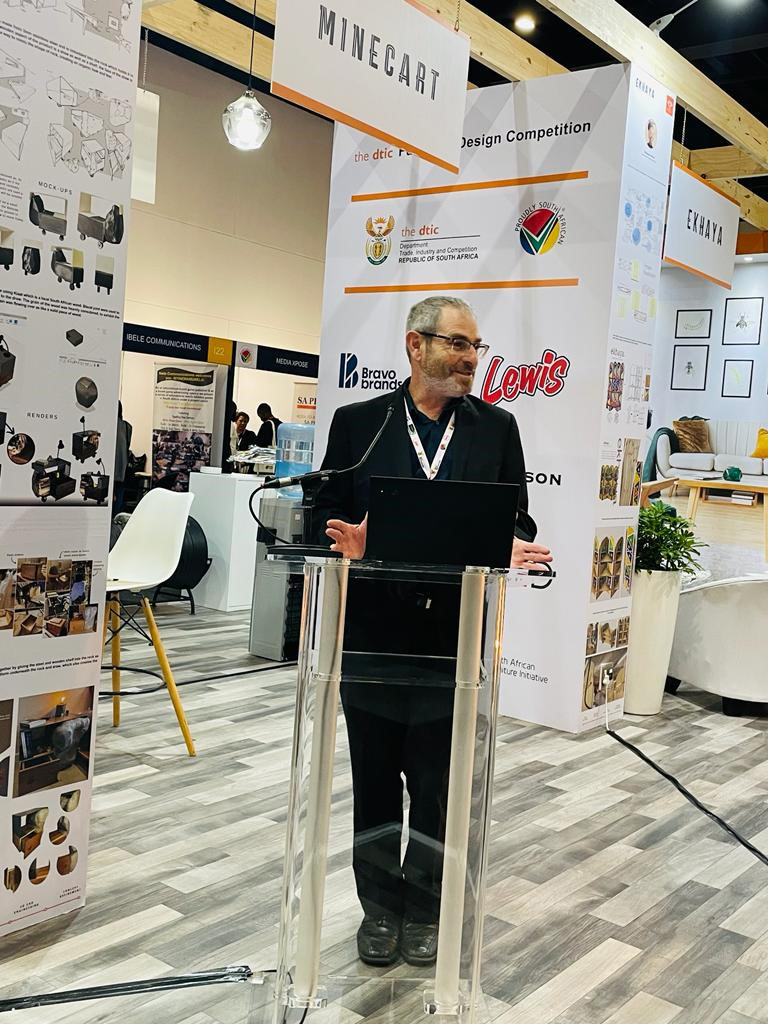 The Acting Deputy Director-General of Industrial Competitiveness and Growth at the Department of Trade, Industry and Competition (the dtic), Dr Nimrod Zalk speaking at the National Furniture Design competition prize giving ceremony in Sandton.
Enquiries:
Bongani Lukhele – Director: Media Relations
Tel: (012) 394 1643
Mobile: 079 5083 457
WhatsApp: 074 2998 512
E-mail: BLukhele@thedtic.gov.za
Issued by: The Department of Trade, Industry and Competition (the dtic)
Share this: