The Deputy Minister of Trade, Industry and Competition, Ms Nomalungelo yesterday visited a  Durban-based company, FQ Manufacturers where she said she was impressed by their efforts and enthusiasm to address unemployment and poverty.
The visit was aimed at enabling the government to understand operational challenges of businesses supported by the government, especially in light of the impact of the Covid-19 pandemic on the economy in general, through visits to their premises and interaction.
FQ Manufacturers specialises in offering fastening solutions to the textile and associated industries with manufacturing and supply of webbing, tapes, upholstery webbing, zippers, nylon chain, zip sliders, sewing thread and metal fittings, amongst others.
According to Gina, many companies were affected by the Covid-19 pandemic and some are still down, but FQ Manufacturers managed to stay afloat. She said she was encouraged by the confidence and determination of the FQ Manufacturers' management to keep their factory running despite the challenges.
"I was impressed by the passion of addressing unemployment, bringing equality to our people and eradication of poverty. I was even more inspired by the fact that the company plans to expand and create more employment opportunities. I am encouraging you to  take advantage of the African Continental Free Trade Agreement (AfCFTA), which is a new game-changer for African businesses and has a market of 1.3 billion people," stated Gina.
She added that she was pleased to learn that the company was planning to contribute to localisation by importing less and sourcing locally more.
Gina committed government's financial and non-financial support to the company and the industry at large. She said the dtic can assist them to be export-ready and showcase their products to the African market, which she said has a huge market for them.
FQ Manufacturers received support from the dtic's Production Incentive Programme which contributed to the company's manufacturing and employment growth.
`According to the Managing Director of FQ Manufacturers, Mr Sans Singh, the company employs about 450 people.
"Our plans to expand were fast-tracked by the funding from the dtic and we were able to employ more people. For the industry to grow, we require an attractive and conducive environment for us to operate and flourish. Our strength is embodied in the diverse range of products, backed by quality, price and availability. By adhering to our philosophy of staying abreast with leading international standards and superior designs, using only top-grade materials and stringent testing, we strive for uncompromised quality and reliability," said Singh.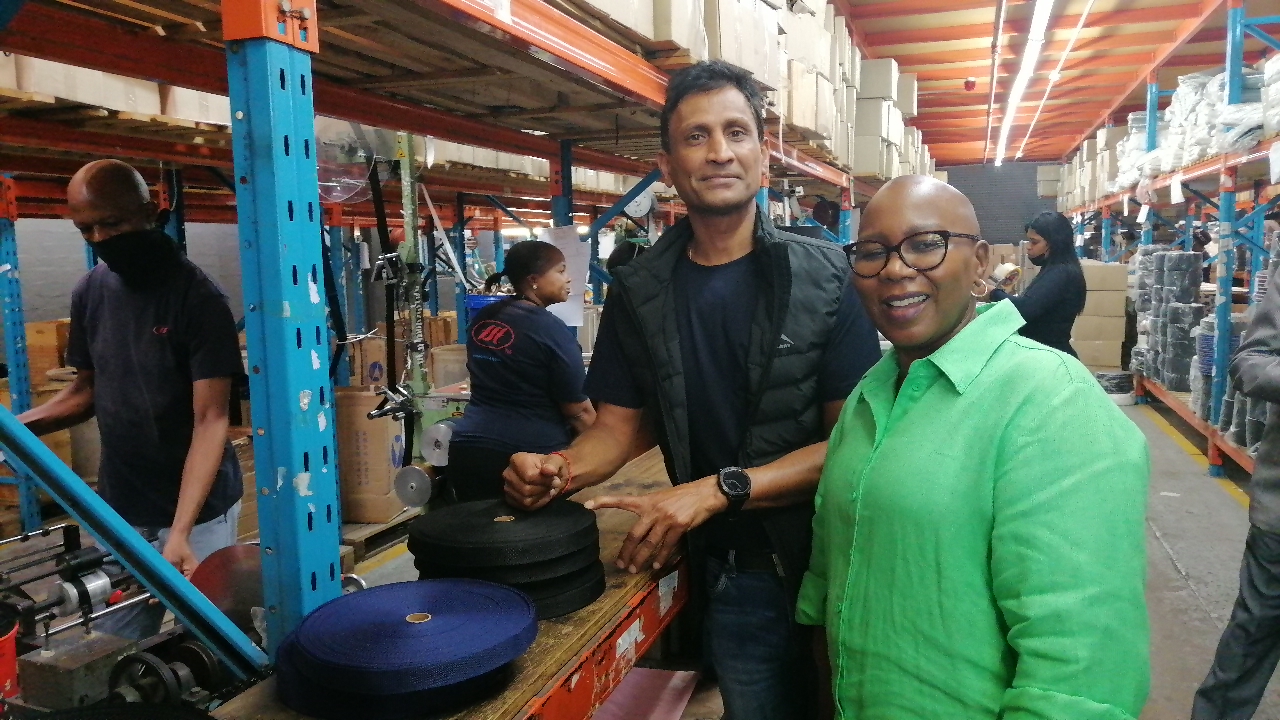 The Managing Director of FQ Manufacturers, Mr Sans Singh showing  the Deputy Minister of Trade, Industry and Competition, Ms Nomalungelo Gina around the plant during her visit to the company.
Enquiries:
Bongani Lukhele – Director: Media Relations
Tel: (012) 394 1643
Mobile: 079 5083 457
WhatsApp: 074 2998 512
E-mail: BLukhele@thedtic.gov.za
Issued by: The Department of Trade, Industry and Competition (the dtic)
Follow us on Twitter: @the_dti
Share this: