The Department of Trade, Industry and Competition (the dtic) and Western Cape Provincial government have committed to putting support mechanisms to help resource a green energy hydrogen project based in Vredendal, Western Cape.  A brief site visit was conducted by senior government officials at the Keren Energy Green Hydrogen Project.
The purpose of the visit was to understand and assess the status of this green energy project in furtherance of government's ambition to catalyse the green economy.  Working in partnership with private the sector, government has taken an initiative to identify and prioritise opportunities that will kick-start implementation of viable investment projects for support.
An investment holding company, Sakhumnotho Power, has partnered with energy development project company, Keren Energy, and the University of the Western Cape, to undertook a proof-of-concept project that can produce green hydrogen at a site supplied by Namaqua Engineering, in Vredendal.
Speaking during the visit, the Acting Chief Director of Special Economic Zones Policy and Planning at the dtic, Mr Thami Klassen said the hydrogen energy project will form part of the initiatives that drive spatial industrial development, through an integrated approach of the three spheres of government.
"The collaboration is key for driving localisation and beneficiation of primary commodities, especially in support of the West Coast-based Saldanha Bay Special Economic Zone. This will further strengthen the private-sector driven innovative investments that will foster development of the green energy economy, using hydrogen and fuel cells manufacturing," said Klassen.
He further stated that critical infrastructure funding could also assist to give impetus to the green economy sector in driving the South African economy forward.
"The primary reason we are here today is to make sure that all systems, and institutions discussed can work together and come up with the funding model that can move the project forward. The bigger picture will always be for the private sector and government to work together in the interest of the country's economy," he added.
The Executive Director of Keren Energy, Mr George van Rensburg, welcomed the discussions between all parties. He said with the installed 100 kW photovoltaic solar system on site, further research and development at the University of the Western Cape and other investments will legitimise the project.
Discussions between all parties and meetings will continue with project commercialisation once a bankable feasibility study has been finalised.
The Green Energy Sector is one of government's planned strategic sector which is modelled around the participation and support of the three spheres of government. Government's support to these sectors is also highlighted in the  implementation of the adopted development approach of the District Development Model anchored around growing the economy through manufacturing, job creation, skills and enterprise development.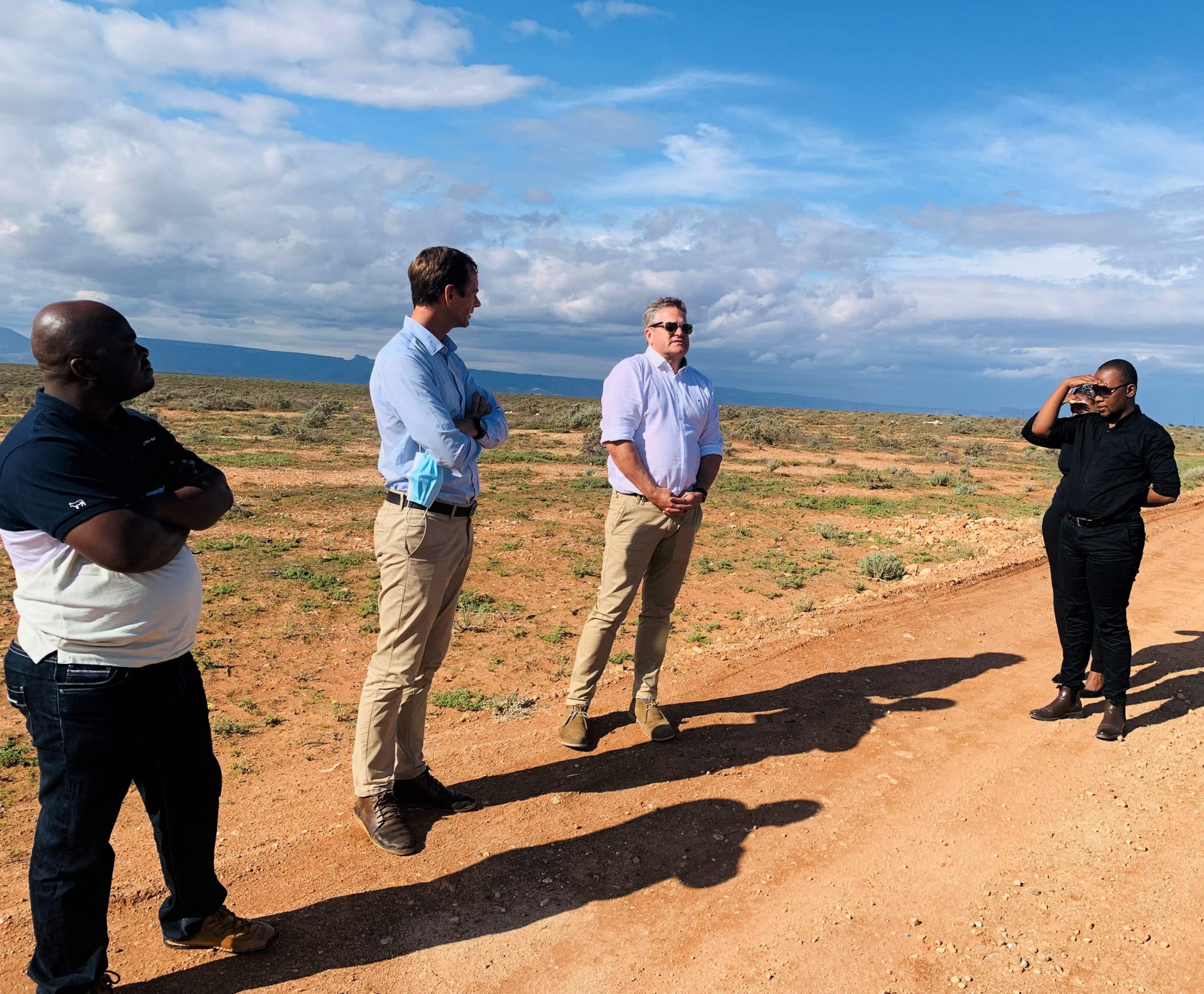 The Executive Director of Keren Energy, Mr George van Rensburg, briefing officials at the project site in Vanrhynsdorp, West Cape.
Enquiries:
Bongani Lukhele – Director: Media Relations
Tel: (012) 394 1643
Mobile: 079 5083 457
WhatsApp: 074 2998 512
E-mail: BLukhele@thedtic.gov.za
Issued by: The Department of Trade, Industry and Competition (the dtic)
Follow us on Twitter: @the_dti
Share this: