Brimis Engineering, a Mpumalanga company based in Middleburg, is gradually becoming an important player in an engineering space, thanks to the support that they received from government through the Black Industrialists Development Programme of the Department of Trade, Industry and Competition (the dtic), and the National Gazelles Programme of the Small Enterprise Development Agency (Seda).
When he founded Brimis in 2013, Mr Andile Nqandela's vision was to create a business that would be an industry leader and make positive contribution in one of the critical sectors that drive South Africa's economy. He also wanted to create a new path for South Africa's young generation of engineers. Today, Nqandela, the Managing Director, and Mr Moeketsi Mpotu, who is a shareholder and Executive Director responsible for technical and business development, pride themselves in running a successful engineering company that is providing employment to up to 150 people, including 40 permanent staff members.
As if that were not enough, the company is in the process of building a brand new state-of-the-art manufacturing plant that will enhance their productivity and competitiveness, and increase their contribution in the economy of Mpumalanga in particular, and South Africa in general. It will also boost their capacity to manufacture a wide range of cutting-edge engineering products for both domestic and international markets.
The new facility has been made possible by the R86 million financial support from the dtic through its Black Industrialists Incentive Scheme, and its development finance institution, the Industrial Development Corporation (IDC), as part of its Black Industrialists Development Programme. The programme is part of government's efforts to accelerate the quantitative and qualitative increase and participation of Black Industrialists in the South African economy, selected industrial sectors and value chains.
"We are grateful to the support we are receiving from government for a new manufacturing facility and machinery. With this kind of support Black Industrialists across the country will be able to play a meaningful role in the economy of this country, particularly in sectors that are critical for the growth of our economy and job creation. The steel and engineering industries that we are operating in are extremely competitive and dominated by big companies, mostly European and American, hence the need and importance of government interventions such as the Black Industrialists Programme that will assist to open up the industry through supporting black companies. Manufacturing of engineering products requires a huge investment to ensure competitiveness and sustainability," says Nqandela.
Mpotu adds that government support will enable them to make critical inroads and be competitive by manufacturing quality products that will compete against the rest in the domestic and intentional markets.
"We have been specialising in refurbishment, maintenance and installation of industrial valves and pumps, and it had always been our ambition to manufacture our own products. The R1 million support we received from Seda through the National Gazelles Programme enabled us to start manufacturing on a small scale. We are in the process of upscaling that to the highest proportions as a result of the funding from the dtic and IDC," says Mpotu.
The construction of the new factory in their new premises has already begun in earnest, and some of the hi-tech manufacturing machines have already arrived and are stored at the current premises at the Middleburg Industrial Park where they are renting space.
"The new factory will go a long way in assisting us grow our business by manufacturing many of the products that we are currently refurbishing and outsourcing, mainly critical pump and valve components. We will produce a range of products for the South African market as well as the export market. We have already been to few international exhibitions with the assistance of the dtic in search of possible export opportunities that we can explore after we have scaled up our production," explains Nqandela.
Nqandela and Mpotu, who are both 39, hail from Rustenburg and Vanderbijlpark, respectively. They met at Eskom where they both worked as mechanical engineers. Nqandela's ambition to run his own business resulted in him founding Brimis Engineering in 2013. He says he chose to strategically locate the company in Middleburg because it is the country's centre of power generation. When he looked for a partner in 2018, Mpotu became the obvious target.
The two have worked together to identify the need to grow their business by going into manufacturing in 2019. They approached the dtic an IDC to seek funding for their dream. And the rest is history. The dust that is  blowing on the other end of the Middleburg Industrial Park where construction is underway at their new manufacturing facility will one day tell a story of their legacy of hard work and dedication, and their contribution in growing the South African economy.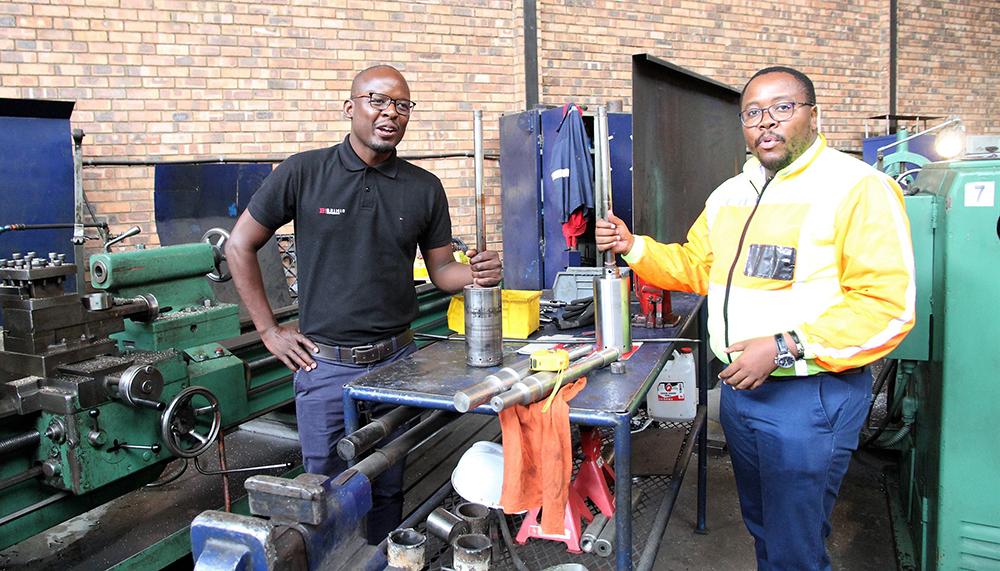 Making good strides – the Managing Director of Brimis Engineering, Mr Andile Nqandela, and Technical Director, Mr Moeketsi Mpotu.
Enquiries:
Bongani Lukhele – Director: Media Relations
Tel: (012) 394 1643
Mobile: 079 5083 457
WhatsApp: 074 2998 512
E-mail: BLukhele@thedtic.gov.za
Issued by: The Department of Trade, Industry and Competition (the dtic)
Share this: