Hong Kong's Strategic Location Has Potential to Springboard SA Fresh Produce into South East Asia
The South African Consul-General in Hong Kong, Mr Madoda Ntshinga says Hong Kong's strategic location and its ease of doing business laws have a potential to springboard South African fresh produce and services into the entire South East Asia regional market. Ntshinga was speaking during the official opening of the South African National Pavilion at the Fruit Logistica Asia Trade Show in Hong Kong.

Fruit Logistica Asia is an annual trade show that focuses on the fresh, unprocessed fruit and vegetables produce sector and the related value chain. The trade show also offers the opportunity to establish new business contacts as it brings together key players from all over the world.

Ntshinga said more than 90% of Hong Kong relies on imports and this, he asserts, is an indication of there being high possibilities for South African companies showcasing at Fruit Logistica, especially in the fresh produce goods and services sector.

"In broad terms, Hong Kong is an important market as it serves as a transit route for trade in this region. It is amongst the biggest logistical hubs in this region and is also the financial hub where the head offices of most banking institutions are located. This magnifies Hong Kong's importance in terms of trade facilitation," he said.

He also called on South African companies to identify niche markets that they could focus on and establish relations with local agents who will import the goods and distribute them in the Hong Kong market.

"In terms of the business culture, it is very easy to deal with this market, especially when you link up your engagements with the consulate. We have very influential chambers that cover all the sectors ranging from mining, food and vegetables and we have very cordial relations with these chambers. They are prepared to help us sell our goods to the local market, and secondly, government entities like the Hong Kong Trade and Development Council are very useful in helping us expose our exporters to this market. In a nutshell what I am saying is that we have a very strategic platform which we can use to market our own products in this region," said Ntshinga

The participation of the South African companies at Fruit Logistica forms part of the dti's Export Promotion Strategy that targets high growth export markets and to support South Africa's fresh produce sector. Earlier, the Deputy Minister of Trade and Industry, Ms Nomalungelo Gina, said that our participation at this Asia leg of Fruit Logistica will expose our companies to a host of export and investment opportunities that will grow their profits and in turn cement South Africa's reputation as a credible exporter of fresh produce.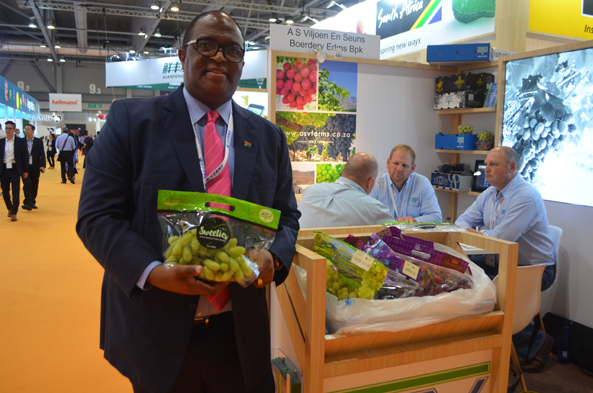 The South African Consul-General in Hong Kong, Mr Madoda Ntshinga during the opening of the SA National Pavilion at Fruit Logistica Asia in Hong Kong
Enquiries:
Sidwell Medupe-Departmental Spokesperson
Tel: (012) 394 1650
Mobile: 079 492 1774
E-mail: MSMedupe@thedti.gov.za
Issued by: The Department of Trade and Industry
Follow us on Twitter: @the_dti
Share this: