The Chief Executive Officer and Founder of Johannesburg-based Molly's Food Enterprise, Ms Lerato Nonyane who manufactures powder drink products, including their bestselling Molly's ginger drink, describes her participation at the Gulfood exhibition in Dubai, United Arab Emirates (UAE), as the best. This is due to the fact that her company's products are receiving enormous interest at the trade fair.
Nonyane is part of a business delegation comprising sixteen agro-processing firms showcasing products at the Gulfood, which started yesterday and will continue until Friday, 24 February 2023.
The companies' participation has been made possible by the Department of Trade Industry and Competition (the dtic) that has set up national pavilions at the two trade shows where the South African companies are exhibiting their products.
According to Nonyane, her products are not only receiving interest from the UAE, but also from Iraq, Saudi Arabia, Bahrain, Ghana, Zimbabwe, Malaysia and Russia.
"I am excited and overwhelmed about the interest. The leads I am receiving are pleasing. I have given out samples and price lists. I hope these leads will translate into business transactions," said Nonyane.
According to her, the company is small and the exposure it is getting through the show will without a doubt help it grow. She said as an emerging exporter she is learning a lot and the export training she received is bearing fruits. She further described the exhibition as the best experience. She added that attending one more exhibition will help the company get the export markets they require and can employ more people.
"We supply 30 Pick 'n Pay stores in South Africa and we are making headway in the country. We have a footprint in Cape Town, Kwa-Zulu Natal, Gauteng, Western Cape and Eastern Cape and are currently talking to Food Lovers Market. We are optimist that we will soon supply them with our products. If we secure funding, we can be number one powder drink manufacturer in the country," expressed Nonyane.
Gulfood is regarded as the largest food and beverage trade exhibition in the Middle East. It attracts a large number of participants from the Middle East and the world at large.
According to the Deputy Minister of Trade, Industry and Competition Mr Fikile Majola the show is expected to expose South African companies to available opportunities in the UAE as well as creating awareness for South African products in the Middle East in general.
"South Africa's participation in the Dubai Expo 2020, which was part of our efforts to revive the economy and create opportunities for inclusive growth, paved a way to further unlock opportunities by leveraging more trade events in the region, such as Gulfood, which offers a follow-through opportunity for South African firms," said Majola.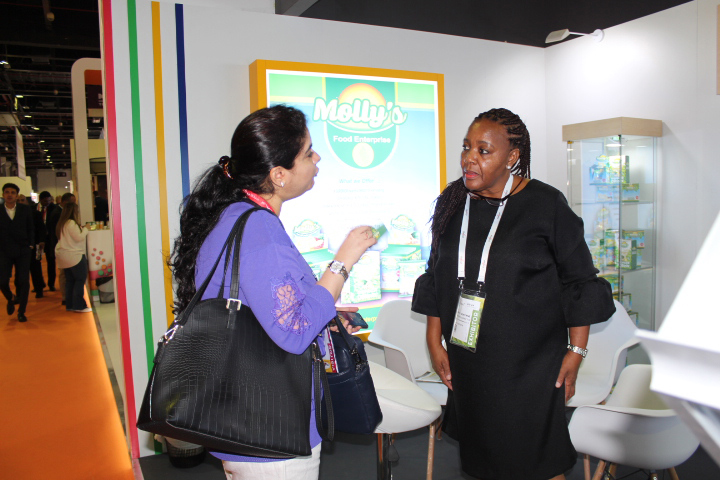 The Chief Executive Officer and Founder of Johannesburg-based Molly's Food Enterprise, Ms Lerato Nonyane excited about the trade leads she is generating in Dubai, talking to one of the visitors to her stand.
Enquiries:
Bongani Lukhele – Director: Media Relations
Tel: (012) 394 1643
Mobile: 079 5083 457
WhatsApp: 074 2998 512
E-mail: BLukhele@thedtic.gov.za
Issued by: The Department of Trade, Industry and Competition (the dtic)
Share this: