Kwazulu-Natal Companies Set to Explore Mining Opportunities in DRC
Two KwaZulu-Natal companies are on a mission to explore potential business opportunities for their products and services during the 15th DRC Mining Week scheduled to take place in Lubumbashi, Democratic Republic of Congo (DRC) from 19-21 June 2019. The participation of Neptun Boot and ARB Global in DRC Mining Week is funded by the Department of Trade and Industry (the dti) through its Export Marketing and Investment Assistance Scheme. The objective of the scheme is to develop export markets for South African products and services and to recruit new foreign direct investment into the country

The three-day event is the largest mining and industrial platform in the DRC, bringing together over 3 000 international professionals and local stakeholders from more than 50 countries, aiming to explore and showcase the vast investment opportunities in the mining sector.

The Technical Sales Manager of Neptun Boot, which is based in Pinetown, Mr Nimrod Donga whose company manufactures gumboots and leather safety boots for the mining industry, says the mining exhibition could not have come at a better time now that his business is on the brink of expanding its brand visibility in Africa.

"We basically produce footwear for mines and 80% of our revenue is generated through those sectors. Looking at the recent decline with mines closing down in South Africa we decided to look outside the country, and the DRC presents us with export opportunity. There are a lot of mines in those areas that have showed interest in our offerings and that will assist in growing our business outside the boarders of the country," says Donga.

Donga, who will be traveling to the DRC for the second time courtesy of the dti, after having been there in 2015, confirms to have already secured possible trade leads with businesspeople from DRC which he hopes will be vital for his company.

"Our first trip to DRC was to learn and understand the market better, fortunately we managed to get a distributor who has since been assisting in marketing our brand to local businesses around Lubumbashi. The feedback has been remarkable. So my plan when I arrive is to follow up on all the trades leads which I am confident will result in massive orders of our products," he adds.

The Sales Representative of ARB Global, Mr Andrew Climpson says the trade fair will provide an opportunity for them to launch their company into the DRC mining market and also help them to establish new distribution networks.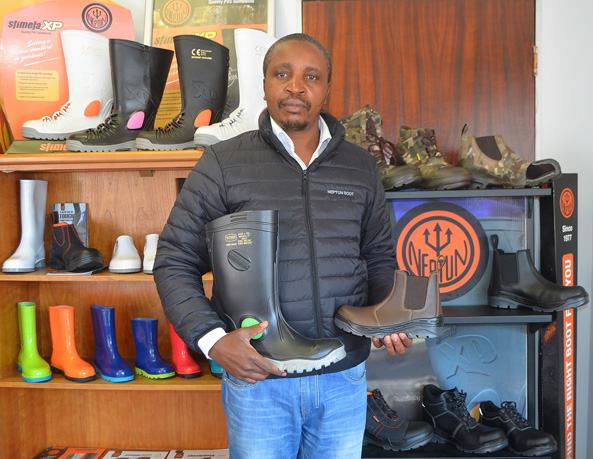 Mr Nimrod Donga of Neptun Boot with some of the products that will be on display at the DRC Mining Week.
Enquiries:
Sidwell Medupe-Departmental Spokesperson
Tel: (012) 394 1650
Mobile: 079 492 1774
E-mail: MSMedupe@thedti.gov.za
Issued by: The Department of Trade and Industry
Follow us on Twitter: @the_dti
Share this: