Limpopo Businessman Changing the Face of Crocodile Farming in SA
A Limpopo businessman funded by the Department of Trade and Industry (the dti) is a shining example of the department's commendable efforts to transform the aquaculture sector in South Africa. Mr William Molekoa's company, Crocodile Farming, received funding to the tune of R1.8 million from the dti's Aquaculture Development and Enhancement Programme (ADEP) for his Mookgophong-based enterprise.

The objective of ADEP is to stimulate investment in the aquaculture sector with the aim of developing emerging agriculture farmers, increasing production, creating job opportunities and promoting geographical spread in the sector. The incentive programme, which was launched in March 2013 has been actively investing in the sector, with a total of 104 projects being approved with an investment of about R2 billion, leading to more than 2 000 jobs being created and sustained to date. 23 black-owned projects were approved over the same period.

Molekoa is arguably the only black crocodile farmer in Limpopo, and indisputably one of the very few in the country. However, Molekoa, and the more than a thousand crocodiles basking lazily in the winter sun next to his dams, bear testimony to the small but significantly positive steps that the dti has taken to change the face of the lucrative crocodile sector in South Africa.  The fact that crocodile skins and meat from a black-owned enterprise located in an obscure Haakdoring Farm in Limpopo are exported to China, Japan and Italy, is by no means a small accomplishment.

"I am indebted to the dti and the famous Limpopo crocodile farmer Albert Pretorius, who mentored me and gave me an opportunity to learn the intricacies of crocodile farming. I also owe my allegiance to numerous neighbouring white farmers who did not only support my application to practice crocodile farming here in Haakdoring, but also contributed their labour, expertise and material when we built the crocodile dams. With that kind of selflessness and positive attitude of other farmers, and assistance from government, economic transformation in white-dominated industries such as aquaculture will be a success," says Molekoa (66).

Molekoa fell in love with crocodiles after visiting his friend Mr Albert Pretorius at his Bela Bela farm. Love grew into a strong passion that resulted in him resigning from his job at the Commission for Conciliation, Mediation and Arbitration (CCMA) in Polowane where he had been an interpreter. He then volunteered his services cleaning crocodile dams at Pretorius' farm for six months.

"I sacrificed my job of many years with the intention of acquiring as much information and knowledge about crocodile farming as possible.  The experience and skills I accumulated proved extremely valuable when I started my own crocodile farm in 2013. Perseverance and patience are the two most important qualities required in this business. I am gradually working towards covering the entire value-chain from breading and slaughtering to processing skins and meat and manufacturing various products such as belt, shoes and bags and exporting them to international markets. At the moment we have 4 000 crocodiles," adds Molekoa.

He is optimistic that he will achieve his ambitions with the support of government as the expansion of his business will help create employment for the youth in particular. Currently, his production cycle begins with purchasing eggs from other commercial farmers and using their hatcheries before taking the young ones to hot rooms. When they turn a year old he takes them to the dams where he feeds and tenders for them until they are slaughtered to export their meat and skins. In October last year he travelled to China with the help of the dti to search for the market.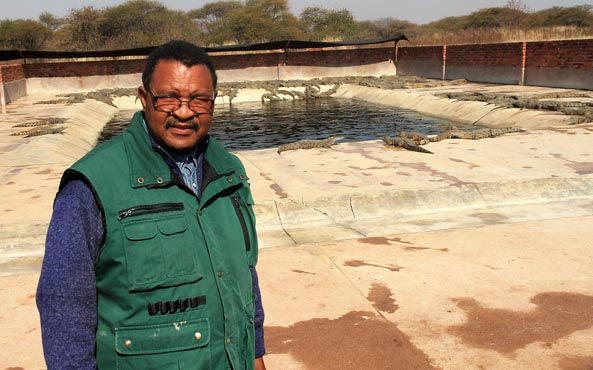 Leading the way – Limpopo crocodile farmer, Mr William Molekoa have ambitions to grow big and employ young people
Enquiries:
Sidwell Medupe-Departmental Spokesperson
Tel: (012) 394 1650
Mobile: 079 492 1774
E-mail: MSMedupe@thedti.gov.za
Issued by: The Department of Trade and Industry
Follow us on Twitter: @the_dti
Share this: