Mining Manufacturing Company Eyes Exporting Opportunities After Mining Indaba
North-West based personal protective equipment (PPE) manufacturing company, PBM, aims to use the valuable information and contacts gathered during Mining Indaba to manufacture specific PPE and export to the rest of the continent. PBM was one of the Small Medium and Micro Enterprises (SMMEs) supported by government to exhibit at Mining Indaba Conference in Cape Town.

The Group Chief Executive Officer of PBM, Ms Refilwe Sebothoma said Mining Indaba provided her with an opportunity to rub shoulders with the who's who of the mining industry internationally. This enhanced her desire to grow her company as an emerging exporter worth of being taken seriously by big industry.

"I made use of the myriad opportunities available at the Mining Indaba to meet the relevant decision-makers whom I would normally not been able to have access to. For the longest time we had desired to export our premium products to the rest of Africa. The information I gathered at the show confirmed that we potentially have a huge market in Southern African Development Community (SADC) and the rest of the continent," said Sebothoma.

She added that business representatives from the Democratic Republic of Congo, Angola, Tanzania and Malawi were excited to meet with them and have further agreed that they visit their countries to further discuss prospective deals.

"From the beginning of March we will start our visits to these countries and solidify relationships. We are planning to partner with their local manufacturers to supply these countries. We have already done the first part of research and now we want to go into manufacturing of specific PPE. We will need to visit current manufactures in China, Malaysia and India where we want to learn and understand the entire process of manufacturing," she said.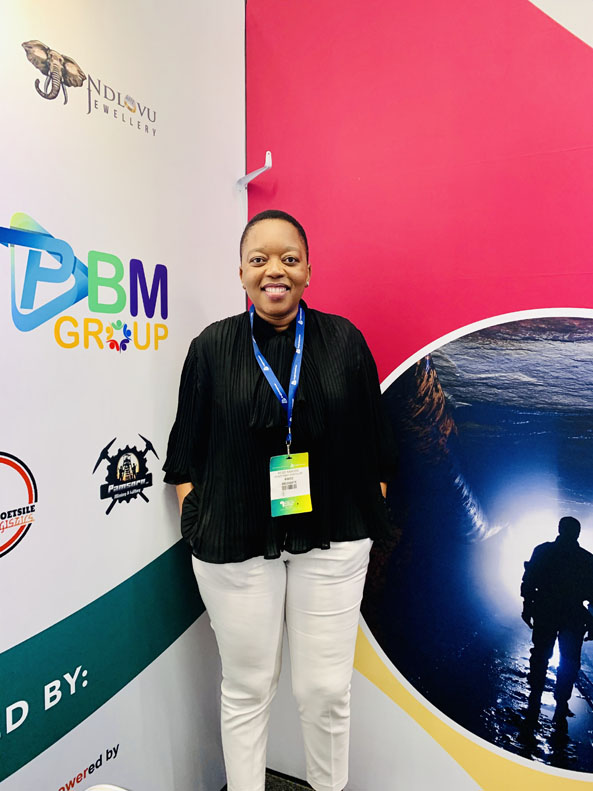 Ms Refilwe Sebothoma at the Mining Indaba.
Enquiries:
Sidwell Medupe-Departmental Spokesperson
Tel: (012) 394 1650
Mobile: 079 492 1774
E-mail: MSMedupe@thedti.gov.za
Issued by: The Department of Trade and Industry
Follow us on Twitter: @the_dti
Share this: