Moringa from North West Village Could Soon be on Way to Russia
The North West businesswoman, Ms Maboang Matlou, who promoted her moringa products at the World Food Moscow is optimistic of exporting her products to Russia in the near future. Matlou is the Chief Executive Officer of Lefakong Farming, a company based in Bosplaas, near Hammanskraal.

Matlou is one of the South African businesspeople who were funded by the Department of Trade and Industry (the dti) through its Export Marketing and Investment Assistance (EMIA) Scheme to participate in the four-day international food and beverage exhibition which ended yesterday.

"Participating in the exhibition of this magnitude provided a very good international exposure for our business and products. Our stand was one of those that attracted a lot of people because of the kinds of products that we were displaying.  I was particularly impressed by the keen interest shown by the consumers in our products. Few knew moringa but even fewer knew about its benefits. I used that opportunity to create awareness and they were even more keen to have our products after learning about the benefits of moringa. Some even wanted to buy on the spot," said Matlou.

She adds that if the interest shown by the show visitors on her products was anything to go by, then she has no doubt that the products can find a fertile ground in Russian market if they were made available.  She is optimistic that it will not be too long before she exports her products to Russia if the four good trade leads that she generated there develop into concrete deals.

"These trade leads are really promising as I even held formal meetings with the businesspeople who showed interest in importing our products. Two of those companies have already requested quotations and they would like to buy in bulk and package the products in Russia. I also met with a representative of a company that is already dealing in moringa at a small scale and they would like to expand their portfolio of moringa products by importing moringa tea from us. There is also a company that requested our price list and are interested in procuring several products in large volumes from us," says Matlou.

Matlou was also approached by a businessman who indicated that he could do the groundwork for her in Russia and assist her products penetrate the market quicker. This he would do by marketing her products amongst the country's chains of retail stores, supermarkets and pharmacies.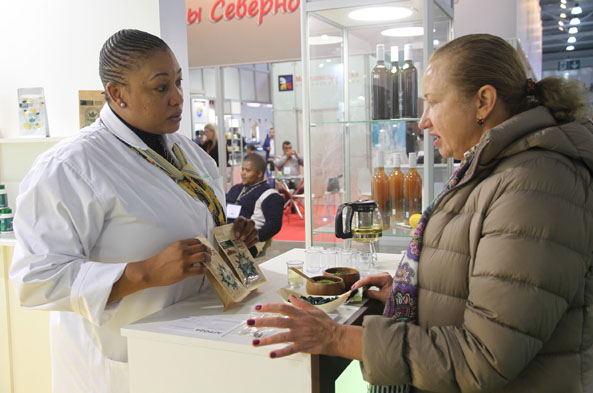 North West businesswoman, Ms Maboang Matlou promoting her moringa products at the World Food Moscow in Russia
Enquiries:
Mr Sidwell Medupe – Departmental Spokesperson
Tel : (012) 394 1650
Mobile: 079 492 1774
E-mail: MSMedupe@thedti.gov.za
Follow us on Twitter: @the_dti
Share this: