The Deputy Minister of Trade, Industry, and Competition, Ms Nomalungelo Gina says partnership between the government and private sector is critical in curbing unemployment amongst the youth. Gina was speaking at a graduation ceremony for beneficiaries of the Itukise Programme held in Pretoria.
"In view of the current economic realities in South Africa, it is now clear that the government alone will not be able to combat the continuous increase in the rate of unemployment among the youth. A partnership between the government and the private sector is critical. It is, therefore, necessary for more stakeholders, especially the private sector to collaborate with the South African government to create more job opportunities and by extension, reduce the unemployment rate among the South African youths," said Gina.
According to Gina, government is in charge of the important task of creating a skills pipeline for young people to prepare them for the economy, and in the process fight unemployment.
"I want to thank all the companies who have assisted us in providing their workplaces, as training spaces for these young people. You have shown patriotism and a sense of national duty. On behalf of the dtic and the government as a whole, we want to express our appreciation to you. I take this opportunity to call upon all other companies large, small and medium to open up their workplaces for the next intake for the youth so that we increase numbers," she said.
Gina congratulated all the students on their achievements and wished them all the best in their professional journey and the future.
The Chief Executive Officer of Polychem Replacement Parts, Mr Rudolph Manikum who hosted two interns at his company, highlighted the importance of skills transfer, a necessity to transforming our economy.
He encouraged graduates to follow their paths and never give up on their dreams.
Speaking on behalf of the Itukise graduates, Ms Boltini Chuma from Mdantsane, East London, said as a Mechanical Engineering student, she had to learn other areas of engineering in order to be where she is today.
Chuma, who needed practical training for a period of three years in order to qualify for her Engineering Diploma, said she took on a role of a quality assessor at her host company and excelled in it.
"When I finally graduated and concluded my Itukise training programme with the company after three years, I was later offered an opportunity to work permanently with a sizeable income that assisted me to take care of myself and my family. I will be forever grateful for the opportunity granted to me by the dtic and my host company," she said.
Another graduate, Ms Pfano Nemavhulani, said as an electrical intern she did not only learn aspects of being an electrician, but expanded to other fields like maintenance building, pneumatic systems, and autoclaves.
"It was very challenging as I was coming across these technical job specifications for the first time. With the help of my manager and the rest of the team, within a few months, I could attend to a breakdown on my own. I had also made a lot of mistakes over this period but I learned and grew in my job," said Nemavhulani.
Nemavhulani said the training helped her to learn practical skills to work independently and to become the qualified electrician she is today.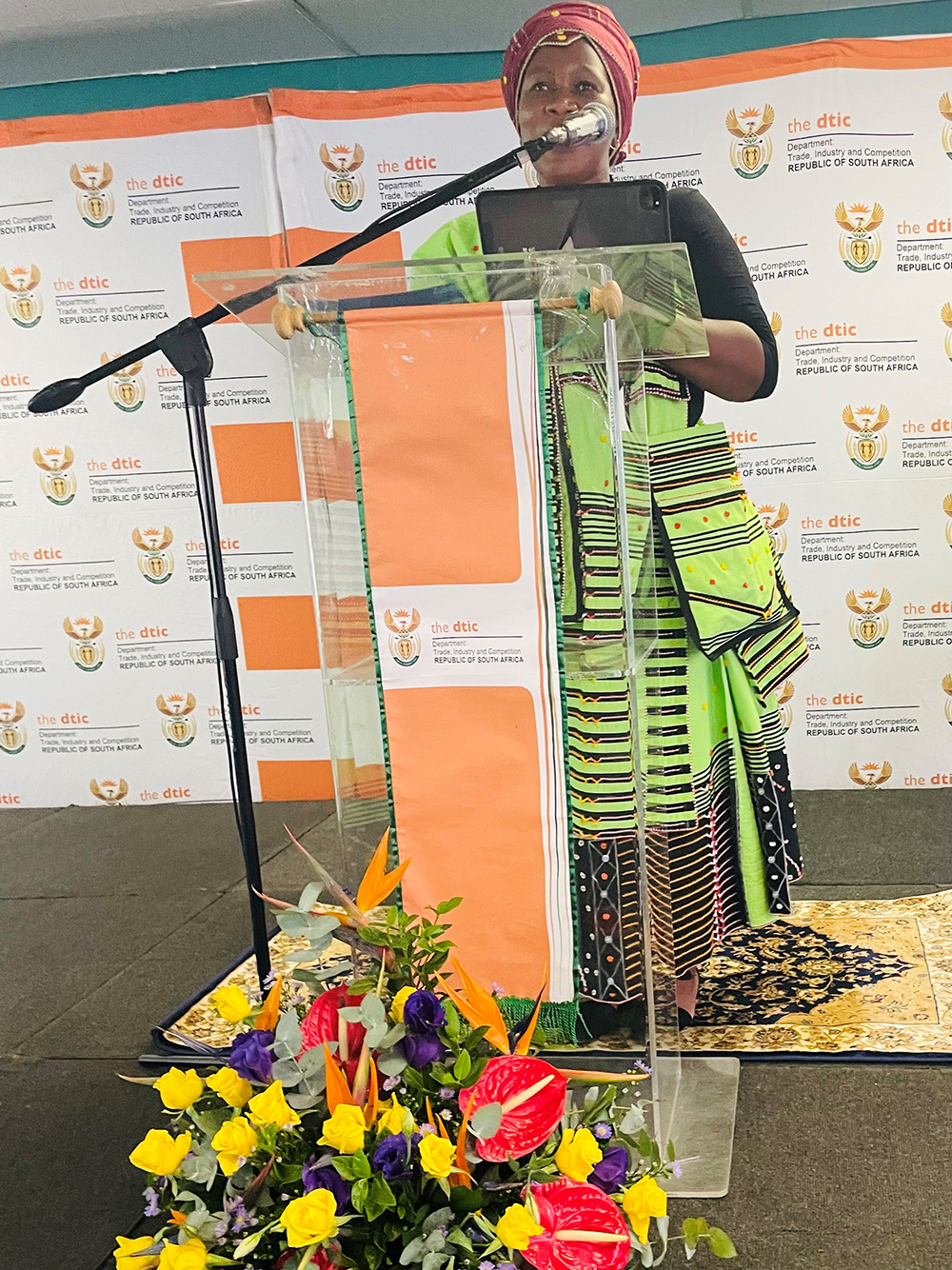 The Deputy Minister of Trade, Industry and, Competition, Ms Nomalungelo Gina at a graduation ceremony for beneficiaries of the Itukise Programme held in Pretoria.
Enquiries:
Bongani Lukhele – Director: Media Relations
Tel: (012) 394 1643
Mobile: 079 5083 457
WhatsApp: 074 2998 512
E-mail: BLukhele@thedtic.gov.za
Issued by: The Department of Trade, Industry and Competition (the dtic)
Share this: