SA businesspeople confident leads will be deals
The South African businesspeople who participated in the Outward Trade and Investment Mission to Ghana are confident that the leads that they generated during the mission will develop into concrete deals that will see them exporting their products to Ghana or investing in the Western African country.

The group of about 30 businesspeople arrive in the country tomorrow morning after spending four days in Accra attending seminars, engaging with Ghanaian businesspeople in business-to-business meetings, and conducting site visit in search of trade and investment opportunities.

"I will be going back to Ghana soon as I have identified quite a number of business opportunities in the energy efficiency value-chain. The seminar provided me with valuable information on the Ghanaian economy and opportunities available for the South African companies to explore.  Our company attracted a lot of businesspeople that I met during the two days of business-to-business meetings.  I am considering returning and investing in a plant in Accra," says Ms Sandiswa Qayi from East London.

Stellenbosch winemaker, Mr Malcom Green also had setting up a bottling plant in Ghana as one of his objectives for travelling to Accra.

"I had fruitful meetings with people who are interested in helping our company establish a wine bottling plant there as part of our export growth strategy for Africa. The Ghanaian investment promotion agency is also keen to play a role in facilitating the implementation of the project because of its potential to contribute in creating employment opportunities for the Ghanaians. We are excited because this will enable us to export South African wines bottled in Ghana to the rest of the West African region," says Green.

Mr Hendrik Naude of Gauteng says he travelled to Ghana with the aim of seeking a distributor for his company's Information and Communication Technology solutions

"From the numerous meetings that I held with the Ghanaian businesspeople I am coming back home with a list of three promising companies which we are likely to do business with in the near future.  I have also met a potential customer who has requested a quotation that can see our products making their way to Ghana in the near future," adds Naude.

Ms Karien Jafta of Gauteng says her cosmetics products attracted an impressive amount of attention from potential clients and businesspeople who were even willing to assist her register her products in Ghana. She expressed confidence that positive results would be forthcoming from the meetings.

"I went to Ghana mainly to gather information about the country's construction industry and the mission assisted me a lot in that regard. I met officials from the department of transport as well as some developers. I am positive we will be doing business in the country in future," says Mr Deon Duvenage from the North West.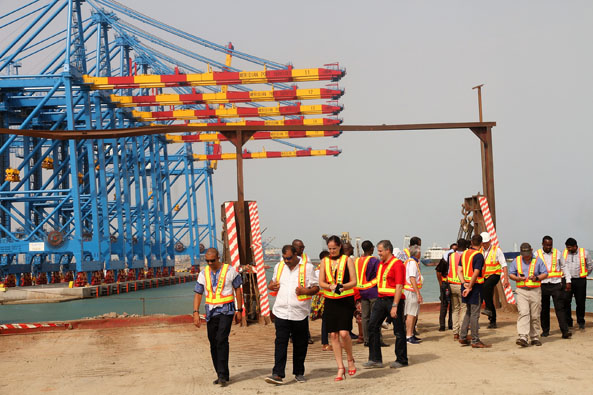 The South African businesspeople on a site visit to the Accra harbour expansion   project
Enquiries:
Sidwell Medupe-Departmental Spokesperson
Tel: (012) 394 1650
Mobile: 079 492 1774
E-mail: MSMedupe@thedti.gov.za
Issued by: The Department of Trade and Industry
Follow us on Twitter: @the_dti
Share this: