SA Companies happy with progress of Uganda Mission
The South African businesspeople who are participating in the Outward Trade and Investment Mission to Uganda led by the Department of Trade and Industry (the dti) are happy that they are making good progress in their efforts to penetrate the Ugandan market. The 25-member delegation arrived in Kampala on Sunday and will continue searching for trade and investment opportunities the East African country until Friday.

The programme began with a business seminar attended by more than 200 Ugandan companies. Business-to-business meetings followed after the business seminar and continued for the whole of yesterday.

The Operations Manager of Agizo Solutions, Ms Lerato Mamabolo, said she was impressed by the high degree of interest that the mission generated amongst the Ugandan business community

"The interest that has been shown by the Ugandans in doing business with South Africa has been remarkable, to say the least.  They did not only come in large numbers but they showed that that they did their research well as they knew exactly who they wanted to meet amongst us, what we are offering and what they wanted.  That made business-to-business meetings very productive and fruitful. The information that was shared during the business seminar was extremely valuable to us understanding the business environment here," said Mamabolo.

Mamabolo, who is 29 years of age, also indicated that she was fascinated by the number of young Ugandan businesspeople who showed enthusiasm in doing business with their South African counterparts.

The owner of Aquaculture Innovations, Mr Leslie Ter Morshuizen said the two days he spent in Uganda had been worthwhile.

"I came here thinking if I got one lead which would result in us building a fish farm for a client, that would be a great achievement. But here I am, even before the end of the second day, sitting with numerous leads that look like they will end up in us building several fish farms around here. I also managed to get a number of other clients who were interested in our equipment and training services. I am really impressed with the progress that we are making," says Ter Morshuizen.

The Director of Rural Integrated Engineering, Mr Chris Stimie also said that he learnt a lot about the business environment in Uganda from the presentations and discussions at the business seminar.

"There has been quite a significant number of businesspeople who were impressed by our soil moisture-testing equipment and are keen to procure it for their agricultural projects. What was even more appealing to me was the fact that some of the businesspeople who came to see us spoke about the possibility of getting our products and services to Sudan," added Stimie.

The Marketing Manager of La Ric Mal Wines, Mr Malcom Green said the mission had already lived up to his expectations even before the end of the second day, as he had already started negotiating a possible deal which could see him exporting his wines to Uganda and Kenya in the near future.

Today and tomorrow, members of the SA business delegation will conduct site visits to various companies around Kampala related to their sectors before heading back home on Friday.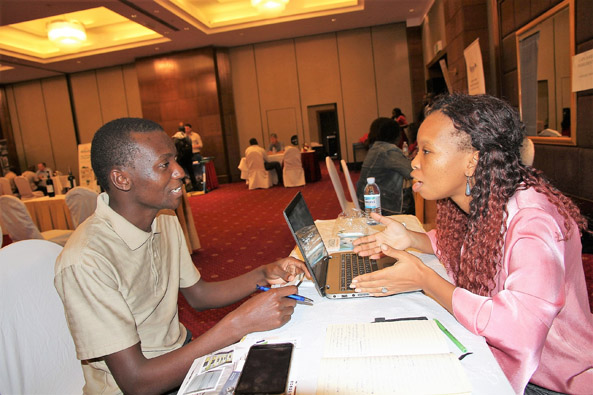 Impressed by the youthful character of Ugandan businesspeople, the Operations Manager of Agizo Solutions Ms Lerato Mamabolo speaking to a young Ugandan businessman.
Enquiries:
Sidwell Medupe-Departmental Spokesperson
Tel: (012) 394 1650
Mobile: 079 492 1774
E-mail: MSMedupe@thedti.gov.za
Issued by: The Department of Trade and Industry
Follow us on Twitter: @the_dti
Share this: