SA Companies Seeking Business Opportunities in Egypt Must Prioritise Partnerships
The South African Ambassador to Egypt, Mr Vusi Mavimbela has urged local companies venturing into the country in search of business opportunities to best prioritise the establishment of partnerships with their Egyptian counterparts. This he advised, was beneficial in enabling the companies to manoeuvre through a myriad of market challenges. Mavimbela said this during a briefing session where he shared insight with a business delegation of South African businesses that arrived in Cairo, Egypt, on an Outward Trade and Investment Mission, yesterday.

He further said that this was an opportune moment for South African businesses in Egypt as the country had taken a position to diversify its portfolio of partner countries.

"Egypt is currently restructuring its economy and there is now a refocus on the African continent to open the market where they would be able to buy and sell. Therefore, companies seeking to operate in this market must best focus on establishing partnerships instead of looking only to export in this market. This would benefit them greatly as Egypt places a strong emphasis on partnerships that have a solid focus on local content," he said.

Mavimbela also engaged the Department of Trade and Industry (the dti) to better pay attention to the Egyptian market and establish business networks. He stressed that this would never become a reality without the leadership of the dti.

"There has been a blind spot about Egypt and we need a concerted effort as South Africa to reverse the barriers. We need to set our sights on this market as a business destination largely owing to the country having the second biggest population on the continent, it is the third biggest economy and geo-politically it serves a very strategic role," said Mavimbela.

The week-long programme will comprise of business-to-business meetings between South African and prospective Egyptian partner companies, sectoral site-visits to projects, meeting with the energy authority, export associations and a visit to the Suez Canal Authority.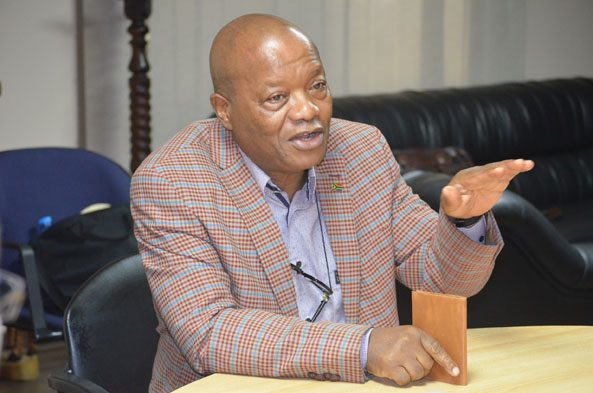 South African Ambassador to Egypt, Mr Vusi Mavimbela briefing the South African business delegation in Cairo, Egypt on an OTIM.
Enquiries:
Sidwell Medupe-Departmental Spokesperson
Tel: (012) 394 1650
Mobile: 079 492 1774
Email: MSMedupe@thedti.gov.za
Issued by: The Department of Trade and Industry
Follow us on Twitter: @the_dti
Share this: