SA Companies Set to Attract Attention at Russian Exhibition
It is all set for the opening of the South African National Pavilion at the annual World Food Moscow International Trade Exhibition that opens tomorrow and will run until Friday, 27 September 2019. More than 30 South African fresh produce and agro-processing companies will showcase their products at the popular food and drinks exhibition.

Representatives of the SA companies spent the better of today meticulously setting up their exhibition stands in preparation for the first day of the exhibition with more than 30 000 visitors from almost 100 countries expected to pass through the turnstiles of the centre.

In the last two years, the SA pavilion was one of the most popular attractions for both visitors, who were fascinated by the SA products on display, and businesspeople who were interested in doing business with the South African companies. This was evidenced by the export sales generated from South Africa's participation at the 2017 and 2018 of the exhibition which amounted to R56 million and R63 million, respectively.

According to the Deputy Minister of Trade and Industry, Ms Nomalungelo Gina South Africa's participation in World Food Moscow contributes significantly in strengthening bilateral relations between SA and Russia. It is also expected to increase bilateral trade between the two countries, which stood at almost R11 billion in 2018.

The Operations Manager of a Stellenbosch-based wine company, La Ric Mal, Mr Ricardo Green says he will be participating in the exhibition for the third time and hopes to return home with a deal that will enable his company export to Russia.

"There is a company that I will be meeting during the fair and I am optimistic that the meeting will result in a concrete deal this time around. We would like to add Russia on the list of several countries that our wines are expected to," says Green.

The CEO of Snow Bliss, a cocktails company based in Johannesburg, Ms Karen Opperman says her objective for participating in the trade fair is to find a distributor who will help her penetrate the Russian market.

We are already exporting our products to Japan, China, and several African countries and we would like to expand our market to Russia," says Opperman.

The Managing Director of the Cape Town-based wine company, Koomanskoof Wingerde, Mr Rydal Jeftha, says the Moscow exhibition provides him with an opportunity to expand his company's footprint in Russia.

"Our wines are already having a presence in Moscow after signing a deal with a distributor when I first attended the show in 2017. But we would like to expand beyond Moscow and ensure that our wines are available in other cities of Russia," he says.

The founder of Setsong Indigenous Tea Crafters, Ms Nondumiso Phaahla says it is her company's first foray into the international market and hopes her range of African indigenous and hand crafted teas will capture the interest of Russian businesspeople.

"Our tea is produced from the indigenous trees of Sekhukhune in Limpopo and we are going to introduce it to the Russians. I hope they will fall in love with it so that we can start exporting it and create more job opportunities for the rural people of Limpopo," adds Phaahla.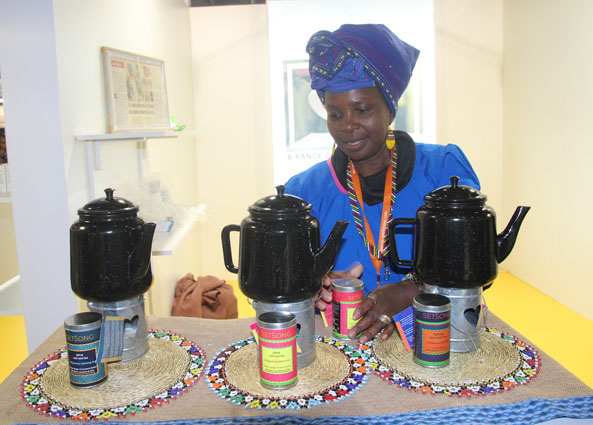 One of the South African exhibitors, Ms Nondumiso Phaahla setting up her stand at the World Food Moscow Exhibition in Russia in preparation for the opening tomorrow.
Enquiries:
Sidwell Medupe-Departmental Spokesperson
Tel: (012) 394 1650
Mobile: 079 492 1774
E-mail: MSMedupe@thedti.gov.za
Issued by: The Department of Trade and Industry
Follow us on Twitter: @the_dti
Share this: