SA Delegates Registering Good Progress at Offshore Technology Conference in USA
A South African delegation from the steel and fabrication; engineering and services; electro technical and services; and oil and gas sectors, and the Saldanha and Richards Bay Industrial Development Zones are registering good progress in Houston, Texas in the United States of America (USA) where they are showcasing their products and services at the Offshore Technology Conference (OTC).

The Acting Chief Executive Officer of the Saldanha Bay Industrial Development Zone Ms Kaashifar Beukes, says she is pleased with the opportunity of networking with the oil and gas industry captains of industry. Furthermore, she says the delegation seeks to attract investments into South Africa from the oil and gas sector as part of President Cyril Ramaphosa's investment drive.

She adds that it has been a busy conference and the delegation is receiving a lot of enquiries on what South Africa can offer the industry.

"Important for me is to also understand where the industry is headed especially with the Fourth Industrial Revolution. So for our emerging economy and industry, it is important to understand how industry players are adjusting their game plan, their business models and what technology they are looking at going forward so that we can be part of that future as well," says Beukes.

The Project and Marketing Manager at South African Oil and Gas Alliance (SAOGA) Ms Belinda Williams says the alliance is eager to see an increased number of South African local oil and gas services exported on a global scale for the offshore industry. She adds the alliance also want to elevate the status across the globe, particularly in the US market.

"It is fantastic to see our companies with a variety of services in this space and to see the ship builders, as well as the ship and rig repairing companies in the conference because all the rig owners are in the US. The companies must take full advantage of their presence in this space. We anticipate that the show will be a good one for the SA companies," says Williams.

The Key Accounts Manager at Hall Longmore – a steel pipe manufacturing company based in Gauteng, Ms Mmatsheko Shai says she is optimistic that the company will export around 30 000 metric tons into the US market by end of 2019, with the intention to grow the number in the next five years. She is pleased will the enquiries she is receiving.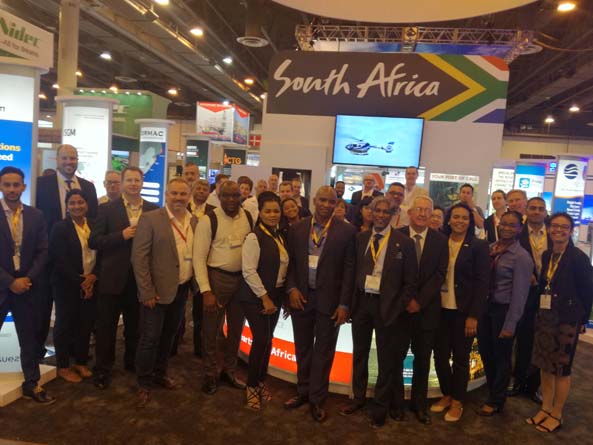 SA delegation in Houston, Texas in the United States of America (USA) where they are showcasing their capabilities at the Offshore Technology Conference (OTC).
Enquiries:
Sidwell Medupe-Departmental Spokesperson
Tel: (012) 394 1650
Mobile: 079 492 1774
E-mail: MSMedupe@thedti.gov.za
Issued by: The Department of Trade and Industry
Follow us on Twitter: @the_dti
Share this: