SKY is the limit for KZN Furniture Manufacturers
A Durban-based KwaZulu-Natal husband and wife business team, Mholi and Nqobile Mthembu believes the sky is the limit for their company Woodnovation, after being selected as a finalist in the National Furniture Design Competition. Winners of the competition, which is organised by the Department of Trade and Industry (the dti) will be announced at a ceremony that will take place at the Proudly South African Buy Local Summit and Expo in Johannesburg on Tuesday, 12 March 2019

The competition is aimed at identifying and nurturing furniture design talent, raise the profile of furniture manufacturing in South Africa and to grow the industry's competitiveness by encouraging new product design and differentiation.

The Mthembus are operating their company from the KwaMashu-based Furntech Incubation Centre where they manufacture furniture. They believe the stylish and trendy sofa and coffee table that they have designed for the competition in line with its theme of making the best use of the limited space in a house, will capture the attention of many people who will visit their stand in Johannesburg.

"Being declared winners of the competition is something that we are obviously looking forward to. To us that will be the bonus because we are looking at the bigger picture. The amount of exposure that our company will receive from being placed on the country's national map of furniture designers will be the huge benefit. In addition, the massive networking opportunity that will be available to us when we attend the ceremony in Joburg and exhibit our designs, this will assist us in taking the company to the next level," says Nqobile.

Mholi adds that they wish the outcome of their national exposure and networking efforts to be orders from customers flooding their mailbox and a bulging back balance. This will enable them to invest in their company, grow it and create employment opportunities. They are currently employing seven people.

"Our ambition is to exit the incubation centre and establish our own manufacturing plant. Unfortunately, that requires huge investment in machinery. But we are working hard to reach that goal and we draw inspiration from the competition which is a stepping stone to achieve our objectives," adds Mholi.

According to Nqobile, the export market is where they are aiming for with their proudly South African products which they plan to produce once they have established their own factory and increased production.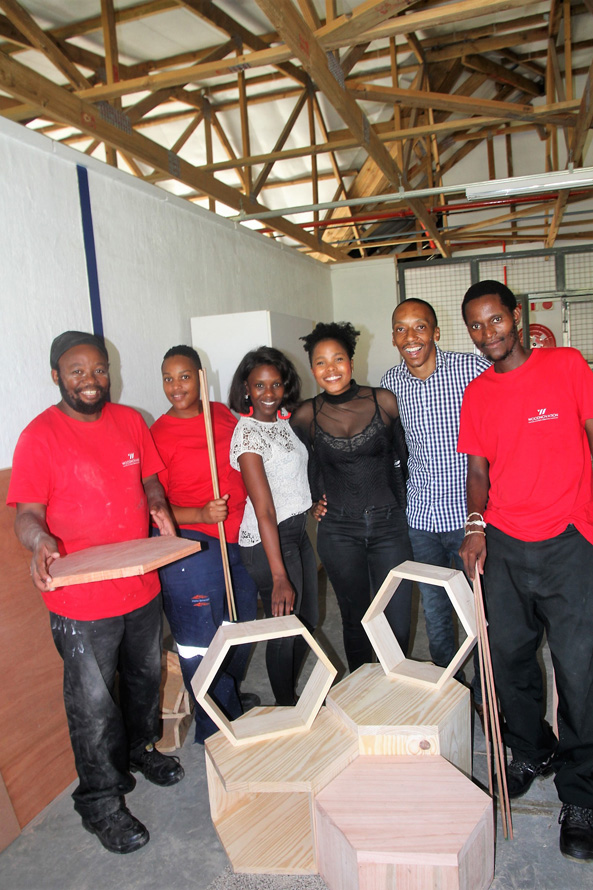 Mholi and Nqobile Mthembu with their team putting finishing touches to the stylish coffee table they will be displaying together with the sofa at the Proudly South African Buy Local Expo in Johannesburg
Enquiries:
Sidwell Medupe-Departmental Spokesperson
Tel: (012) 394 1650
Mobile: 079 492 1774
E-mail: MSMedupe@thedti.gov.za
Issued by: The Department of Trade and Industry
Follow us on Twitter: @the_dti
Share this: