South Africa calls for a Developmental-Oriented Digital Economy
The discussion on the digital economy must be development-oriented, promote inclusivity, innovation and the emergence of new technologies. This was said by the Minister of Trade and Industry, Mr Ebrahim Patel during the joint session of the G20 Ministers meeting of Trade and Digital Economy in Tsukuba, Japan. Minister Patel and the Minister of Communications,     Ms Stella Ndabeni-Abrahams are representing South Africa.

Minister Patel emphasised the need for a governance framework that should among others, ensure the benefits of digital transformation are shared more equitably. Governance should provide for data flows, and acknowledge the right of national authorities to regulate in the public interest.

Furthermore, he highlighted that data is at the centre of the digital economy and emphasised the strategic role of data to support development and is central to the development of a digital industrial policy.

Patel called for an inclusive multilateral discussion on digital trade and e-commerce.

"We are of the view that a fully inclusive multilateral discussion on digital trade and e-commerce is necessary to foster multilateral cooperation on digitalisation in a way that broadens the benefits and promotes inclusive growth and sustainable development," he indicated.

Patel added that South Africa is in the process of developing its national policy on the digital economy with a view to advance its development objectives and is looking forward to cooperate with all G20 Members to ensure that the digital economy works for all, with a particular focus on African development.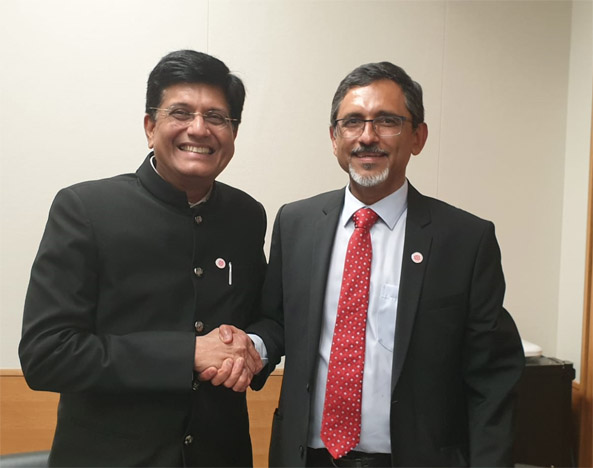 Minister Patel and his Indian counterpart, Piyush Goyal met on the margins of the G20 Trade and Digital Economy Meeting on 8 June 2019
Enquiries:
Sidwell Medupe-Departmental Spokesperson
Tel: (012) 394 1650
Mobile: 079 492 1774
E-mail: MSMedupe@thedti.gov.za
Issued by: The Department of Trade and Industry
Follow us on Twitter: @the_dti
Share this: