Both the government and the timber sector must commit to promoting the introduction and holistic use of timber in the local construction industry as timber has a transformative potential that could revolutionise and unlock investments. This was said by the Deputy Minister of Trade, Industry and Competition, Ms Nomalungelo Gina, when she delivered a keynote address at the inaugural Timber Construction Conference which took place in Pretoria yesteday.
Gina emphasised that the Master Plan for the Commercial Forestry Sector which was developed in partnership with the Department of Forestry, Fisheries and the Environment, focused on two key pillars for promoting timber construction which are demand creation and capacity building.
"These pillars call for an urgent enhancement in the use of engineered timber products in South Africa's built environment, particularly within state-owned entities. We aim to raise awareness of the advantages of timber construction, generate demand, and develop the necessary skills within the industry. Timber holds immense potential in contributing to South Africa's economy, and we are committed to overcoming societal barriers to its widespread use," she said.
Gina's address resonated deeply with the conference attendees, underscoring the importance of sustainable timber construction as a catalyst for economic growth and environmental responsibility. Her vision of a South Africa where timber plays a pivotal role in construction aligns perfectly with the nation's aspirations for green development and job creation.
She also highlighted that in 2018, various stakeholders came together to discuss and provide an understanding of the principles and importance of a sustainable approach to building using timber in the construction industry.
"The main outcome of this collaboration was to provide a solution to the economy of which we must ensure that we are moving in unison towards our green economy goals. As the Department of Trade, Industry and Competition (the dtic), we are working on the Furniture Masterplan, which will require a lot of timber for home construction. There are also downstream beneficiaries of timber that we need to ensure that we embrace and create opportunities and income for them," said Gina.
In addition, Gina also emphasised the need to pay attention to the skills deficit in this field which is crucial to its growth.
"We must deal with the lack of skills and supporting technical data for wooden materials. This gap can be closed by launching online digital skills training courses which will upskill these professionals and assist them in expediting the adoption of new digital technologies. South African universities must urgently improve their research capacity in wood-based building materials and methods. Given the economic importance of the construction sector, research and development (R&D) within timber and construction industries is very small and should be increased," added Gina.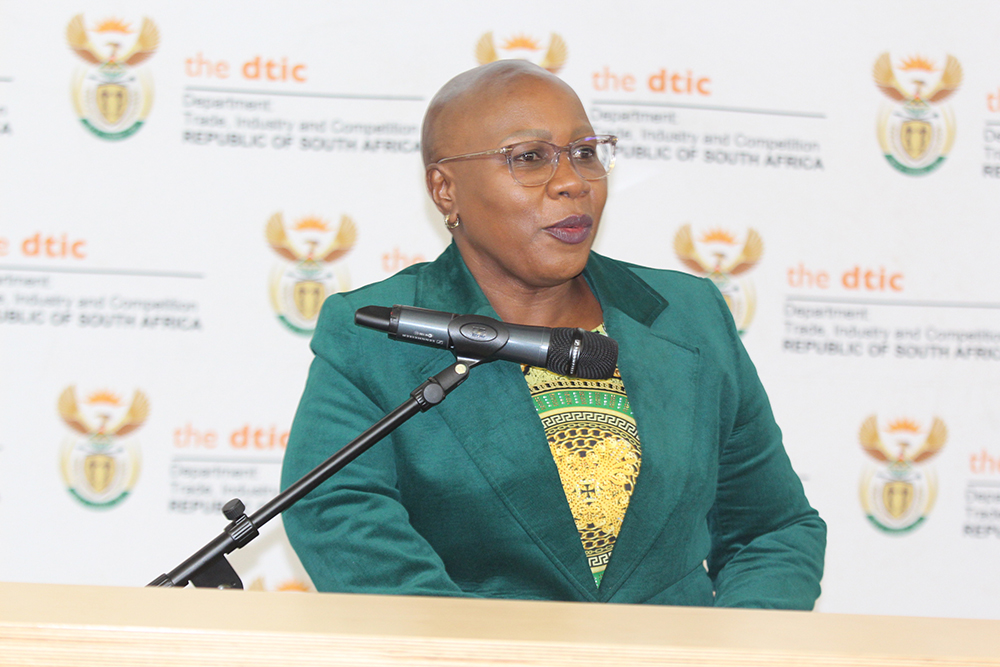 The Deputy Minister of Trade, Industry and Competition, Ms Nomalungelo Gina delivering a keynote address at the Timber Construction Conference in Pretoria
Enquiries:
Bongani Lukhele – Director: Media Relations
Tel: (012) 394 1643
Mobile: 079 5083 457
WhatsApp: 074 2998 512
E-mail: BLukhele@thedtic.gov.za
Issued by: The Department of Trade, Industry and Competition (the dtic)
Follow us on X: @the_dtic
Share this: