Value and Importance of Intellectual Property should be at the centre of World International Day Celebrations
The Executive Manager for Strategic Division at the Companies and Intellectual Property Commission (CIPC), Mr Lungile Dukwana says the World Intellectual Property Day (WIPD) celebrations should be broadly about the values and importance of intellectual property in the socio-economic sphere. Dukwana was speaking at the WIPD media launch held in Bloemfontein, Free State.

"Reflecting on this year theme and celebrations I cannot reiterate the value of intellectual property in sports and the benefits the public derive from it. We therefore want to create an environment whereby the WIPD is taken as seriously as other days that are celebrated all over the globe," said Dukwana.

He added that as the commission they take centre stage in the protection of intellectual property rights and it is not surprising that it has thus far initiated some developmental programmes to encourage innovation and creativity.

"These programmes Include investor assistance programme, search and examination for patents to improve quality of patents in South Africa and intellectual property colloquium and commercialisation annual seminars on the strategic use of Intellectual Property as one of the economic tools," he said.

The Acting Vice-Chancellor and Principal of the Central University of Technology (CUT) in the Free State, Professor David Ngidi said universities were no longer simply centres of knowledge production, but critical role players in innovation, economic development, and transmission of ideas.

"Here at CUT, we are at the core of a vast ecosystem that allows us to build our own networks and become a major player in the central region. We will continue to strengthen ties with our communities and make our research accessible and relevant to the region," said Ngidi.

Making reference to this year World Intellectual Property Day theme Sport: Reach for Gold, Ngidi said the world was witnessing how technology bring about innovative solutions to sports using artificial intelligence.

"Currently new technologies are being developed to enhance performances of athletes across various sporting codes. Through these technologies, we are seeing how companies are investing more on building strong brands in today's competitive environment," added Ngidi.

The World Intellectual Property Day celebrations will take place in Bloemfontein, from 25 – 26 April 2019 in.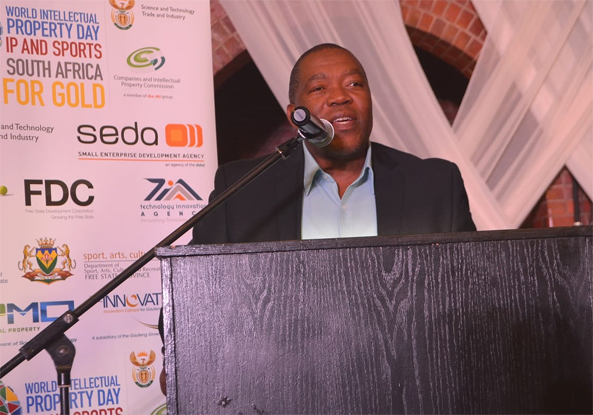 The Executive Manager for Strategic Division at the Companies and Intellectual Property Commission (CIPC), Mr Lungile Dukwana addressing stakeholders in Bloemfontein, Free State.
Issued in by the dti in partnership with the Department of Science and Technology, Small Enterprise Development Agency, Free State Development Corporation, Technology Innovation Agency and The Innovation Hub.
Enquiries:
Sidwell Medupe-Departmental Spokesperson
Tel: (012) 394 1650
Mobile: 079 492 1774
E-mail: MSMedupe@thedti.gov.za
Issued by: The Department of Trade and Industry
Follow us on Twitter: @the_dti
Share this: