Warm Reception Awaits SA Businesspeople in Uganda
The South African businesspeople who left for Kampala, Uganda this morning on an Outward Trade and Investment Mission funded by the Department of Trade and Industry (the dti) can expect a warm reception from the Ugandan businesspeople who are looking forward to doing business with them. The mission ends on Friday, 24 May 2019

The Head of Regional Membership of the Uganda National Chamber of Commerce and Industry, Mr Steven Kabagambe says Ugandan businesspeople are waiting for the South Africans with keen interest and anticipation.

"We have been working with the Embassy and the South African Department of Trade and Industry to create awareness about the forthcoming mission amongst our members and the business community in general. The response has been beyond expectations. The keenness of the local businesspeople to interact with their counterparts from South Africa is very high. We are looking forward to productive interactions between the south and the east. We are positive that sustainable business relationships, partnerships and linkages will be established during these interactions," says Kabagambe.

He attributes the high interest to the recognition by the Ugandan businesspeople that SA is one of the biggest economies in Africa and the mission presents a golden opportunity for trade and investment partnerships and collaborations.

"As a chamber we are keen on establishing partnerships amongst businesspeople from various African countries in order to increase intra-Africa trade and investments. Networking opportunities like the ones presented by the forthcoming mission are perfect platforms to achieve this objective. Businesspeople will be able to share information face-to-face on investment and trade opportunities that they can explore together in each other's economies. This will strengthen trade cooperation and investment collaboration between South Africa and Uganda," adds Kabagambe.

He singled out agro-processing as a sector that is abound with both investment and trade opportunities for the south African companies to explore. These include value addition in dairy, beef, poultry, fish, as well as skins and hides industries.

"In fact there are opportunities in the whole of the value chains of various industries here. For an example we require hatcheries, feeds and veterinary services in our poultry sector. The exporting of skins and hides has been banned in this country and this has opened up a whole lot of opportunities for the leather industry value-chain. Opportunities are also up for grabs in our timber, and oil and gas industries," adds Kabagambe.

He also says the SA companies will find the strategic location of Uganda as the centre of East Africa, security stability in the region, government support, infrastructure and conducive business environment appealing to them.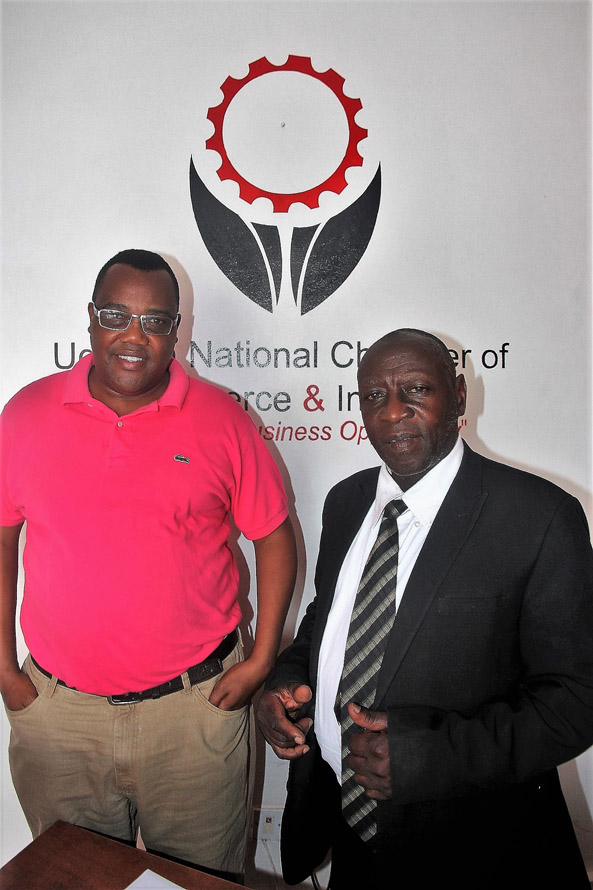 The Secretary General of the Uganda Chamber of Commerce and Industry, Dr Churchill Bacwa (left), and the Head of Regional Membership of the Uganda National Chamber of Commerce and Industry, Mr Steven Kabagambe.
Enquiries:
Sidwell Medupe-Departmental Spokesperson
Tel: (012) 394 1650
Mobile: 079 492 1774
E-mail: MSMedupe@thedti.gov.za
Issued by: The Department of Trade and Industry
Follow us on Twitter: @the_dti
Share this: