Work in Progress to Strike a Balance for Monopoly Rights to Support Innovation and Disbursement of the Knowledge – Minister Davies
The Minister of Trade and Industry (the dti) Dr Rob Davies says Government is trying to strike an appropriate balance between granting monopoly rights to support innovation, the dissemination of the knowledge and addressing socio economic challenges in South Africa. Minister Davies said this during his address at a two-day Intellectual Property and Technology Commercialisation Colloquium at Saint George Hotel Conference Centre in Pretoria today. The colloquium is hosted by the dti, in collaboration with the Companies and Intellectual Property Commission (CIPC) under the theme: Propelling innovation towards full-scale industrialisation and inclusive growth.

"One of the policy instruments that Government is introducing to address the above, is a substantive search and examination system of patents. The substantive search and examination system will be implemented on a needs bases, because there are too many cases of ever greening of patents," said Minister Davies.

While outlining the Intellectual Property system in SA, Minister Davies said more than 95% of patents registered in SA are foreign patents, and only a few are from local innovations. He pointed out that there was a need to encourage the greater use of the patent system by local innovators. In that regard, he said government was also involved in making it easier for inventors to patent their products through the Inventor Assistant Program (IAP). The IAP is CIPC administered program that assists inventors, who meet the qualifying criteria, to obtain patent protection for their inventions through the services of pro bono patent attorneys.

"South Africa has inventions coming from research institutions, universities and individuals, and the issue is then how do these inventions find their way into products. The computerised ticketing system, automatic hosepipe swimming pool cleaning device and many more are South African innovation and not many of them ended up as products that are manufactured in South Africa, and South Africa does not benefit appropriately from its innovation. This tells us that the journey of innovation which is the most difficult part is turning of inventions into commercial products and in this regard, in SA, we have had many more failures than successes. This is the issue we need to confront," said Minister Davies.

Minister Davies added that as the 4th industrial revolution unfolds, there is going to be a necessity to adopt new technologies otherwise we will get left behind.

"There will be opportunities for small companies to make innovations around those products and barriers for the companies to enter the space are lowered because of the ability to creatively apply the new technologies," said Minister Davies.

Minister Davies indicated that the dti was developing a programme that will amongst others include the development of an incentive grant, but more importantly will provide assistance and supportive environment so that people can find partners, find ways of taking these ideas into the market place and finding the right partners and ensuring that these innovations operated and commercialised here in South Africa.

"Innovation is incredibly important in terms of our future as a country and the Continent. For us to be able to industrialise, we have to be continuously raising competitiveness which is something that innovation is very integral part of, without innovation and continuous innovation we will not be able to position ourselves as an industrial country and location", concluded Minister Davies.

International experts have also shared their insights into the 4th Industrial Revolution and how the current IP regime must evolve to adapt to these technological advancements.

Inventors, academics, patent attorneys, industry partners, SMMEs, technology consultants, commercialisation specialists, venture capitalists, incubators, technology transfer offices as well as high school learners and university students were in attendance.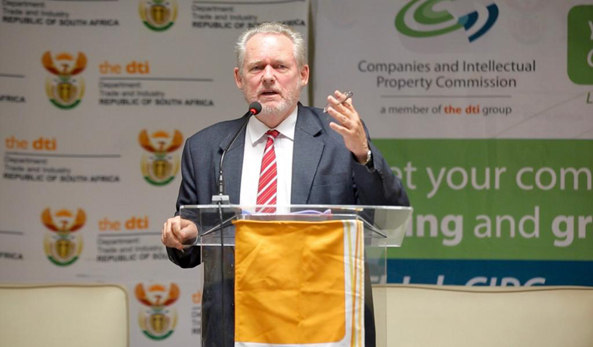 The Minister of Trade and Industry (the dti) Dr Rob Davies addressing the Intellectual Property and Technology Commercialisation Colloquium at Saint George Hotel Conference Centre in Pretoria.
Enquiries:
Sidwell Medupe-Departmental Spokesperson
Tel: (012) 394 1650
Mobile: 079 492 1774
E-mail: MSMedupe@thedti.gov.za
Issued by: The Department of Trade and Industry
Follow us on Twitter: @the_dti
Share this: