Stakeholders and students attending a two-day Student Exposure Workshop that was hosted by the Department of Trade, Industry and Competition (the dtic) in Potchefstroom agreed that agriculture and agro-processing are crucial economic sectors and drivers to transform the economy and create jobs in the country.
The purpose of the workshop was to expose agribusiness students to opportunities available in the agro-processing sector and share the available government offerings for the agro-processing industry. It was also aimed at cultivating entrepreneurship and promoting opportunities for self employment and innovation amongst the youth, especially with the increasing number of unemployed youth.
According to the Director of Agro-processing at the dtic, Ms Thembelihle Ndukwana the agro-processing sector has a potential to become an industrial impetus that can create jobs and address some of the country's macro-economic challenges facing the country.
"The sector was identified by the National Development Plan (NDP) as an important sector for its potential to spur growth and create jobs, due to its backward linkages with the primary agricultural sector. It is also among the sectors that have the highest employment multipliers in the economy and entry, as well as an active participation of Small and Medium Enterprises, in particular the youth, is limited," said Ndukwana.
Speaking at the same workshop, Potchefstroom College of Agriculture alumni, Mr Thabo Dithakwe, who owns an agro-processing company in the North-West, said as a proud product of the college, he now owns a commercial farm that he is currently leasing unlike previously when he was sharing communal land with other farmers.
"I am mainly in primary production of live animals but like I indicated, the journey of agro-processing started while I was at the college and not at the end of my training. I started doing odd jobs in farms on weekends and during school holidays. I also started doing my own research on how I can kick-start my career and got a mentor," said Dithakwe.
Dithakwe, who started his own business in 2015, said farming had always been part of his life.
"I started building networks while I was young. So students need to start while they are still at the college to make these linkages and build relationships. You do not have to be an owner of a farm or butchery to succeed in this field.  It will also help you to know more about the process and value chains in the sector in order to have a proper plan for your future," added Dithakwe.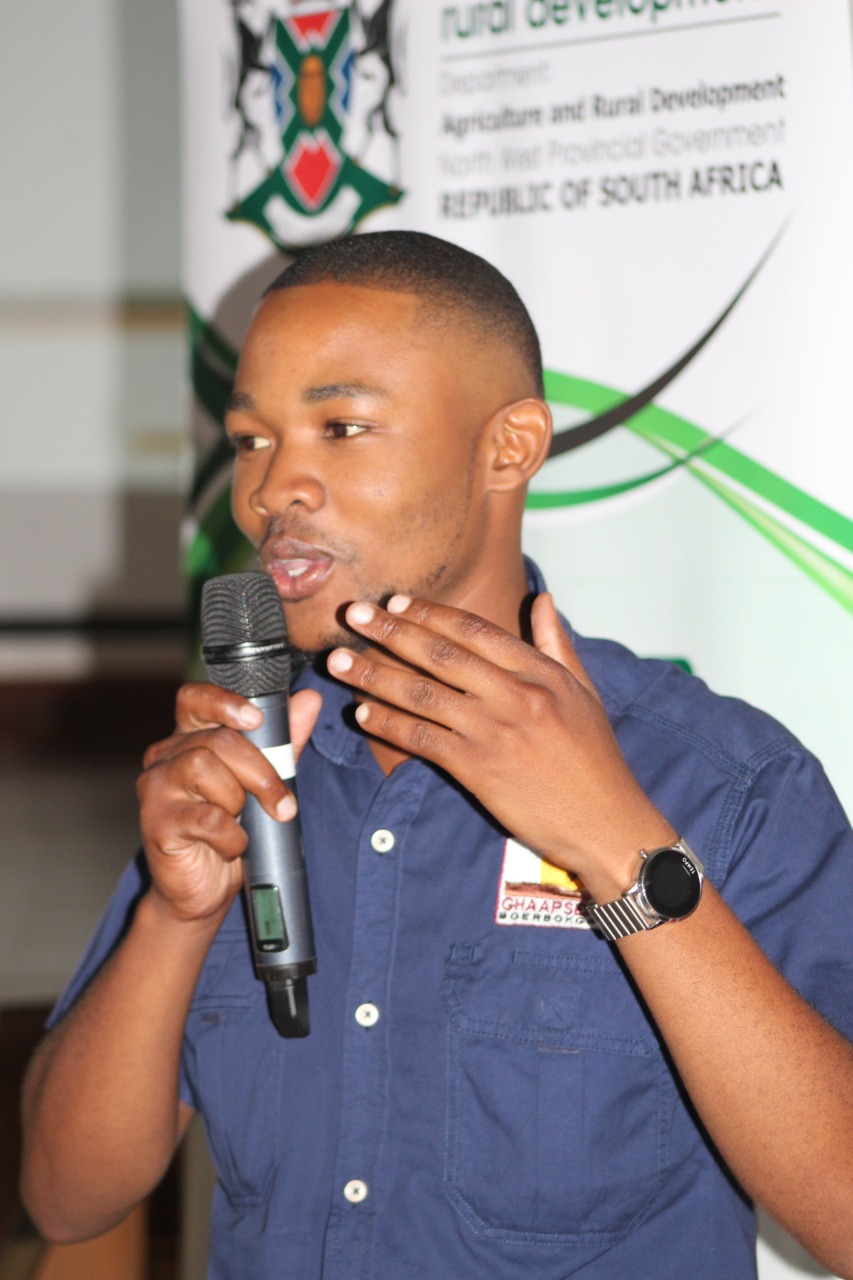 Potchefstroom College of Agriculture alumni and businessman, Mr Thabo Dithakwe speaking at the Student Exposure Workshop hosted by the Department of Trade, Industry and Competition (the dtic) in Potchefstroom, North-West.
Enquiries:
Bongani Lukhele – Director: Media Relations
Tel: (012) 394 1643
Mobile: 079 5083 457
WhatsApp: 074 2998 512
E-mail: BLukhele@thedtic.gov.za
Issued by: The Department of Trade, Industry and Competition (the dtic)
Follow us on Twitter: @the_dti
Share this: