Ambassador Sizani Encourages SA Companies to Embrace Partnerships With German Counterparts
The South African Ambassador to Germany, Mr Stone Sizani has encouraged local companies to strongly embrace partnerships with their German counterparts, especially when in search of introducing South African-made goods and services in the European market. Sizani made this call during his visit to the South African Pavilion that is currently showcasing local fruits and vegetable products at the Fruit Logistica Trade Fair in Berlin, Germany.

Sizani stressed that the seeking of partnerships with German companies would make for an easier alternative for South African companies looking to trade in Germany, especially with the current capital constraints in the South African market.

"The European Union (EU) as a neighbour continent to Africa is working on a deal that would establish a Free Trade Agreement with Africa and South Africa in particular, precisely because we are in the same time-zone.  The Germans insists every day that partnerships between South Africa and Germany are of high necessity for German companies. That is why they are pumping lots of resources in supporting skills development and supporting the growth of company-to-company partnerships between German and South African companies. They will put a lot of resources in ensuring that all compliance rules that we have to meet in order to get to the EU market will be available to South African companies," he said.

In addition, Sizani mentioned that he was encouraged by the positive attitude demonstrated by South African exporters regarding the possibilities for businesses in agriculture despite the hype about land expropriation.

"What I have observed here at Fruit Logistica after having had discussions with our exporters is that there is a positive attitude about the possibilities for South African businesses in agriculture, despite the hype about land expropriation. They do believe President Ramaphosa when he asserts that we will protect food security. That gives me great confidence that I can tell our host country Germany that when President Ramaphosa says that we will protect productive land for food security, he truly means what he says and I am encouraged by that for it makes my work easier to convince investors to come and invest in our country because South Africa believes in the future of agriculture on land," said Sizani.

Sizani also extended an invitation to all companies that seek advice and assistance from the Embassy.

"We have created an infrastructure which allows the embassy to have access to key German industry associations. We   speak with them on a regular basis so that we can advise our companies on possible problems and regulations to abide by that could affect them. We have more than 630 German companies investing in South Africa and are working on relationships with them so that they can tell us what they are warning their members against, so that we in turn can warn our own government about those matters.," he said.

The Fruit Logistica Berlin, regarded as the world's leading international trade fair for the fresh fruit and vegetable industry will be coming to a close today.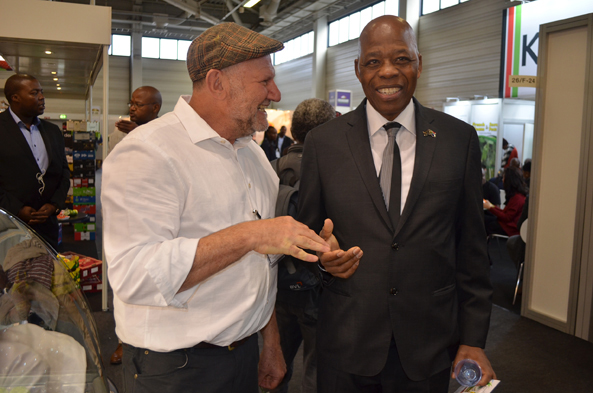 SA Ambassador to Germany, Mr Stone Sizani enjoying a chuckle with Mr Ettiene Taitz at the South African Pavilion in Berlin, Germany
Enquiries:
Sidwell Medupe-Departmental Spokesperson
Tel: (012) 394 1650
Mobile: 079 492 1774
E-mail: MSMedupe@thedti.gov.za
Issued by: The Department of Trade and Industry
Follow us on Twitter: @the_dti
Share this: