Appetite for SA Wines Growing in Russia
South Africa should take advantage of the growing appetite for the South African wines in Russia and strengthen their marketing efforts in order create more awareness and increase market penetration. This is the view of the Stellenbosch-based winemaker, Mr Malcom Green. Green is the Marketing Manager of La Ric Mal Wines which is one of the more than 30 companies that will be showcasing their products at the World Food Moscow International Trade Exhibition from 24-27 September 2019.  Their trip is funded by the Department of Trade and Industry (the dti) with the aim of assisting agro-processing companies seek a market for their products in Russia.

Green's company is already exporting wines to eleven African countries, including Mauritius, Uganda, Kenya, Nigeria, Zimbabwe and Angola, as well as China. This week a container left for Ghana with 13 000 bottles of his company's wines as a result of a deal he clinched during a trade and investment mission to Accra organised by the dti in March this year.

"The appetite for the South African wine is slowly but steadily growing in Russia. South African companies need to take advantage of this growing appetite and market our wines aggressively in order to create product awareness and increase demand. Russia is not only an important market for the South African wines because of us being fellow Brics members, but the Russians are gradually falling in love with our wine as they have come to realise its uniqueness when it comes to taste and quality as a fruit-driven product," says Green.

He adds that initiatives such as the dti-funded international trade missions and national pavilions contribute significantly in introducing the SA wines to various international markets.

"South African wines are regarded as new in the world of wines. Although the SA wine industry is 360 years old, our wines have only been available noticeably on the international market for less than 25 years as a result of economic sanctions that were imposed on us by the international community before democracy. Therefore, we need to up our ante in regards to our wine marketing and promotion efforts on the world stage. The Russians have been getting their wines from Spain and Italy for many years. We have to work hard to improve our market share," adds Green.

Green says he is optimistic that his company's concerted efforts to penetrate the Russian market will soon bear fruits as he has been working on it for some time. His son and business partner, Ricardo Green, will be making his third trip to Russia next week in an attempt to get a distributor.

"Most of the deals signed in the export and import industry are a result of good relationships that have been built over a period of time. It is not easy to get into a country and come back with a sale deal under your arm first time. Ricardo has built relations with some businesspeople during his previous visits and introduced our wines to them. He will be meeting them at World Food Moscow and hopefully something concrete will come out of those meetings this time," says Green.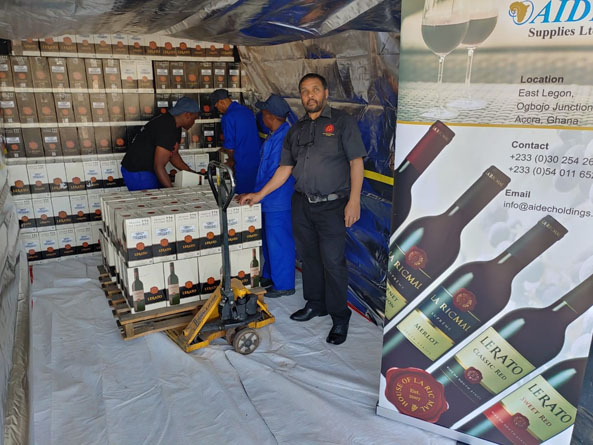 The Marketing Manager of La Ric Mai Wines, Mr Malcom Green supervising the loading of his company's wines destined for Ghana.
Enquiries:
Sidwell Medupe-Departmental Spokesperson
Tel: (012) 394 1650
Mobile: 079 492 1774
E-mail: MSMedupe@thedti.gov.za
Issued by: The Department of Trade and Industry
Follow us on Twitter: @the_dti
Share this: