Business Opportunities in Agro-Processing are Unlimited – Deputy Minister Gina
The Deputy Minister of Trade and Industry, Ms Nomalungelo Gina has urged Newcastle entrepreneurs to look beyond primary agriculture and explore the unlimited opportunities that are available in agro-progressing. Gina was addressing more than 300 businesspeople at an interactive information session held in the Northern KwaZulu-Natal town of Newcastle today.

The session was part of a national roadshow that is rolled out by the Economic Development Department aimed at facilitating an interaction between small businesses and the country's development finance institutions (DFIs).

"As government we recognise the critical role that small businesses play in growing the economy of the country, creating jobs and eradicating poverty. But our emphasis is on profitable and sustainable small businesses that have the capacity to grow into big business. This requires entrepreneurs to think out of the box and look at opportunities that can enable them to grow their business instead of concentrating on the tenders," said Gina.

She added that Newcastle was a predominantly agricultural area producing quite a variety of fresh produce, as well as livestock.

"This presents unlimited opportunities for a number of businesses in the agro-processing value-chain. There are many products that you can work together on to produce from the primary agriculture that is being successfully practiced by many people in this area," said Gina.

She added that government's development finance institutions such as the National Youth Development Agency (NYDA), Small Enterprise Development Agency (Seda), National Empowerment Fund (NEF) and Industrial Development Corporation (IDC), all of whom made presentations at the session, were obliged to provide financial and none-financial support to entrepreneurs.

"The development finance agencies have been created specifically to assist you make success of your businesses. Government is committed to ensuring that you do not only get funding for your business from these agencies, but also that you are provided with assistance when it comes to accessing the market, not only in South Africa but internationally as well," added Gina.

Gina also called on the DFIs to assist companies to be export market-ready in order for them to have the capacity to penetrate international markets.

"The Department of Trade and Industry orgainses international trade missions and national pavillions across the globe to provide companies with an opportunity to showcase their products and services globally. The objective of these initiatives is to increase South Africa's exports and to attract investments. These are opportunities that government makes available for small businesses to seize. Sessions like these are meant to point you to the right places where you can get the relevant information in order to empower yourself and grow your company. We would like to see more companies from KwaZulu-Natal in general, and Newcastle in particular participating in those trade missions and exhibitions," said Gina.

The Mayor of the Amajuba District Municipality, Councillor Musa Ngubane said the district, which comprises of Newcastle, Utrecht and Dannhauser, and has a population of half-a-million people, was experiencing an unemployment rate of 57% most of whom are the youth.

"Promoting entrepreneurship will enable us to change the situation around in our district and produce entrepreneurs that will create more employers and lessen the number of people looking for jobs. This is the role that small businesses will play in changing the lives of the people for the better," said Ngubane.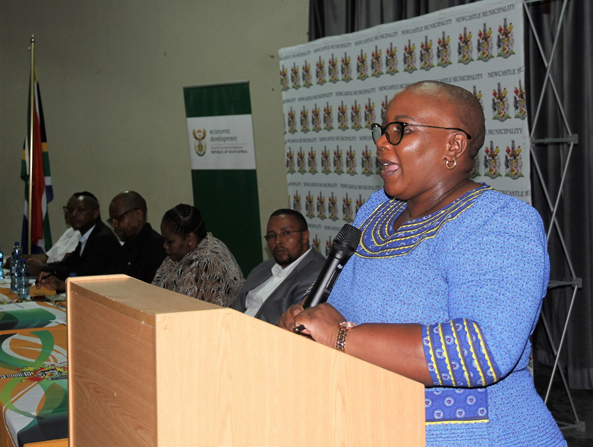 Explore the abundant opportunities in agro-processing: The Deputy Minister of Trade and Industry, Ms Nomalungelo Gina speaking to businesspeople in Newcastle, KwaZulu-Natal.

Enquiries:
Sidwell Medupe-Departmental Spokesperson
Tel: (012) 394 1650
Mobile: 079 492 1774
Email: MSMedupe@thedti.gov.za
Issued by: The Department of Trade and Industry
Follow us on Twitter: @the_dti
Share this: