Cape Town businesswoman on a mission to seek market in India
2019-02-25
A Cape Town businesswoman, Ms Rizia Bassa is on a mission to seek a new market for her products in India. Bassa, whose company, Bassalicious Foods is located in Wetton, where she produces a variety of sauces and marinades, is one of the businesspeople who will be participating in the Outward Trade and Investment Mission to New Delhi and Mumbai from 3-8 March 2019.

The mission, which is aimed at increasing the trade of value-added goods and investment between South Africa and India, is organised and funded by the Department of Trade and Industry (the dti). It will provide the South African companies with an opportunity to explore trade and investment opportunities in India.

"I am looking forward to the mission as I am optimistic that I will be able to find a distributor or agent in India that we can work with to export our products to the country. We are also hoping to successfully introduce our products to big retailers and supermarket chains. I am of the opinion that our products are tailor-made for the Indian market," says Bassa.

Bassa established Bassalicious in 2013 after being encouraged by her son, Fahad, who was impressed with the range of sauces that his mother was making in the house.

"I have never looked back since I launched the company and have been striving to grow it from strength to strength.  Our first range of products included 10 authentic hot sauces and marinades which are cooked at a low temperature to bring out the exceptional flavour of all the ingredients used in our products. Our sauces and marinades are versatile, organic and preservative free. A sugar-free range has also been added.  Since the launch of our company, we have expanded our product range to bring our customers the freshest and finest food products sourced from local farmers," says Bassa.

She adds that the mission to India will boost her efforts to expand the export market for her products to India as she is currently exporting to China, although at a small scale.

"I have already appointed a representative in Mumbai to help market our products there but I will be meeting several businesspeople during the mission.  I am confident that they will like our products. Returning with export orders will go a long way in assisting me to grow this business and contribute in creating employment," says Bassa who is currently employing six fulltime staff members and two temporary workers.

According to the Minister of Trade and Industry, Dr Rob Davies the mission will contribute in introducing South African companies to the Indian market with the aim of assisting them gain entry and use the opportunity to obtain export orders and generate trade leads.

"One of the dti's strategic goals is to grow the South African manufacturing sector in order to promote industrial development, job creation, investment and exports.  To achieve this objective, the department embarks on international missions in order to promote exports of South African value-added goods, and services to increase market share in markets located in various regions of the world," says Davies.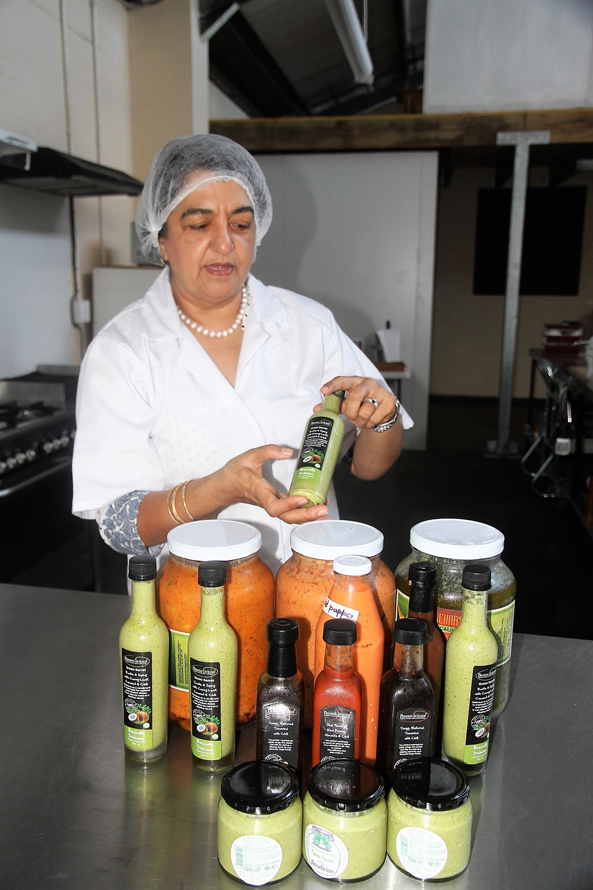 The owner of Bassalicious Foods, Ms Rizia Bassa in her Wetton factory preparing products to take to India for the mission.
Enquiries:
Sidwell Medupe-Departmental Spokesperson
Tel: (012) 394 1650
Mobile: 079 492 1774
E-mail: MSMedupe@thedti.gov.za
Issued by: The Department of Trade and Industry
Follow us on Twitter: @the_dti
Share this: