Collaborative Approach Will Propel Furniture Sector to Growth and Job Creation
A collaborative approach between government and industry has the potential to boost the development of South Africa's furniture industry and create employment opportunities. This was said by the Director of Forestry Based Industries at the Department of Trade and Industry (the dti), Ms Tafadzwa Nyanzunda. She was addressing businesspeople during a consultative workshop in Cape Town.

The workshop was part of the process that the dti and South Africa Furniture Initiative (SAFI) and Furniture Industry Association have embarked upon to obtain inputs from industry experts as part of an initiative to develop the country's Furniture Industry Master Plan. The purpose of the master plan is to grow and protect the South African furniture industry, as well as to promote industrial development in the sector.

"As government we acknowledge the challenges plaguing the furniture industry. These interactive discussions will assist us to source ideas from the industry in terms of what the vision for the sector is and also what is going to be a realistic achievement in terms of how the master plan will look like in the next five years. Our aim is to develop a more pragmatic plan to revive the sector as that will enable us to create more jobs and grow the economy," said Nyanzunda.

She highlighted that to mitigate the challenges and turn the situation around, a number of strategic priorities will be followed within the industry.

"The last document we developed for furniture industry was back in 2011 and it only reached executive committee level, and now we need to ensure that it gets approved by parliament desk. By April 2020 we will have a finalised master plan on how we will forge ahead in developing the sector. We had engagements before, but these kinds of workshops are more about acknowledging the challenges and sharing concepts on how to develop strategies that we need to implement as the industry. This consultation is not about ticking a box but rather about the changes that we need to effect in the industry," remarked Nyanzunda.

The next consultative workshop will take place in Durban on Thursday.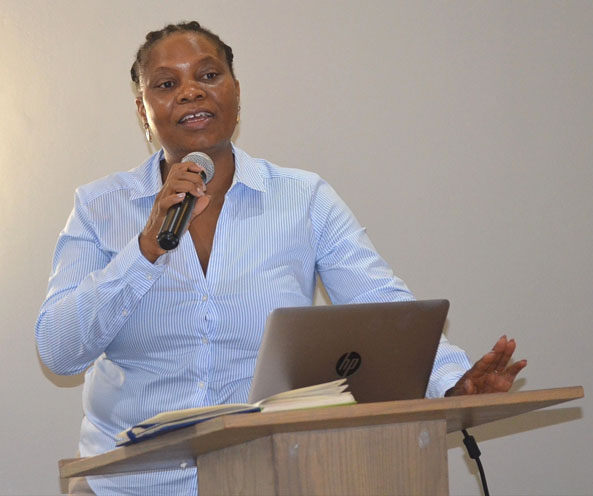 The Director of Forestry Based Industries at the Department of Trade and Industry (the dti), Ms Tafadzwa Nyanzunda addressing businesspeople in Cape Town.
Enquiries:
Sidwell Medupe-Departmental Spokesperson
Tel: (012) 394 1650
Mobile: 079 492 1774
E-mail: MSMedupe@thedti.gov.za
Issued by: The Department of Trade and Industry
Follow us on Twitter: @the_dti
Share this: