South Africa's Companies and Intellectual Property Commission (CIPC) scooped a number of awards from the Centre for Public Service Innovation(CPSI).
Announcing this today, the Minister of Trade, Industry and Competition, Mr Ebrahim Patel, congratulated the CIPC on its achievement. He announced that 141 745 companies have registered between November 2019 and February 2021 using the system, with the process normally taking less than a day. This means on average, close to 12 000 new companies were registered each month, including during the Covid lockdown period.
The CIPC was awarded the most Innovative Public Service Entity of the Year for 2020 as well as the effective use of digitised services award, throughout all tiers of government, for their Bizportal online registration system.
Bizportal enables seven services in a single system, namely
–        the registration of Company
–        registration for purposes of the Unemployment Insurance Fund
–        compliance with the registration for the Compensation Fund
–        SARS registration
–        BEE registration
–        Opening of a bank account and
–        Registration of a .za domain name
Minister Patel says the Bizportal has made the lives of entrepreneurs and businesses persons easier and simple and has cut red tape since being launched at the South African Investment Conference in 2019.
"The CIPC has embraced new technologies to speed up its services and widen access. This improves the ease of doing business in South Africa and helps with the economic recovery programmes of government. The Bizportal makes it easier for new entrants and young people to start businesses," he said.
In the 2021 State of the Nation Address, President Ramaphosa highlighted the implementation of the Bizportal as a mechanism that has sped up the registration, maintenance and associated services related to Companies and for the efficiency of having multiple related services concluded in a short space of time.
"Through the CIPC Bizportal, a company normally gets registered within minutes which allows business people to get on with the running of their ventures and not be held up by inefficiencies and service delivery delays," Minister Patel said.
"This has been particularly helpful to start-ups during the pandemic and lockdown, as entrepreneurs were able to register online. In normal times, it helps them to avoid queues and lengthy processes. Persons outside the major metropolitan areas can access the service as easily as those living in Pretoria," Minister Patel said.
He noted that the Bizportal system will see further improvements as it continues to innovate and add services, by rolling out Annual Returns and additional company maintenance processes with ease. This was part of developing a one-stop approach to assist businesses.
"We now have an excellent service and must strengthen it and enable more South Africans to use it to open their own businesses and drive job-creation and economic activities," he said.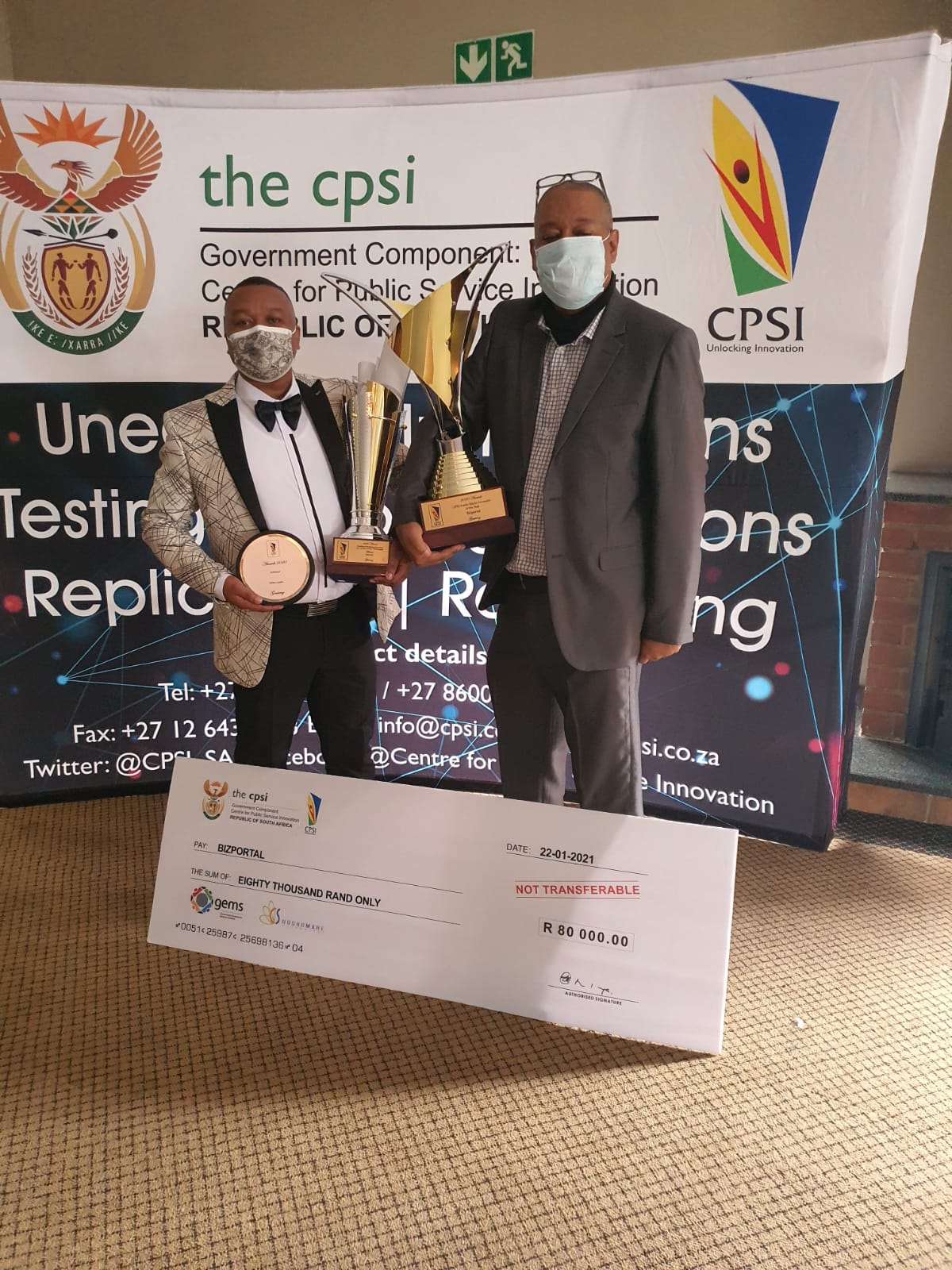 Caption from right: CIPC Commissioner, Advocate Rory Voller and Thando Luyaba during the Public Service Innovation Awards
Enquiries:
Sidwell Medupe-Departmental Spokesperson
Tel: (012) 394 1650
Mobile: 079 492 1774
E-mail: MSMedupe@thedti.gov.za
Issued by: The Department of Trade, Industry and Competition (the dtic)
Follow us on Twitter: @the_dti
Share this: