All levels of government must assure investors that Mooi River is a safe area to invest in and that security issues are at the heart of any potential investment. This was said by the Deputy Minister of Trade, Industry and Competition, Ms Nomalungelo Gina during her community and business engagement session in Mooi River, KwaZulu-Natal today.
According to Gina, the burning of trucks during the recent unrest has negatively affected the image of the area in the eyes of investors. She said government must look at small businesses in the community to be supported by provincial and national government.
"The negative impact of the recent unrests has seen the closure of companies in Mooi River which were burnt down, and therefore more job losses became unavoidable. This has imposed more strain on the Mpofana Local Municipality because of the declining economic activities in this town," said Gina.
Gina added that part of government's ongoing engagement in the area was to  identify potential sectors and support them, especially in small-scale farming, clothing and textile and agro-processing.
"We must therefore engage in an exercise of how to attract those kinds of investments. As government, we are aware of the challenges arising from South African Special Risk Insurance Association (SASRIA) as it is overwhelmed by the number of claims. As a department we are engaged in a number of business relief interventions through our agencies. Our team of officials has been on the ground in this province for a month now, registering the affected businesses," she said.
Gina further said that the engagement in Mooi River today must be seen as a beginning of an ongoing process of working towards lasting solutions in reigniting the economy of the region.
Representatives of businesses in Mooi River indicated that it had been difficult to re-open stores and retaining the same number of employees they used to have before the unrests.
The business community also asked government to follow up on a government commitments to set up the agri-hub for agro-processing in the area, the support on the plan to turn the Mooi River into a second refreshing economic station after Montrose as it lies along busy N3 national road.
The majority of the businesses highlighted the need to create jobs for the youth so that the economy of the area can shift from its reliance on pensioners as customers, but also expand to more included economy that can grow and create sustainability.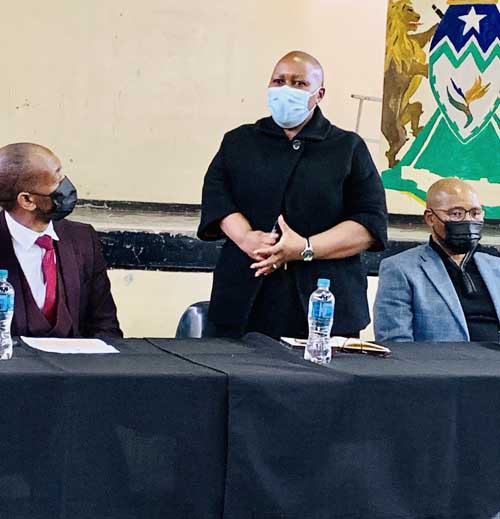 From left: The Mayor of Mpofana Local Municipality, Councillor Xolani Duma, Deputy Minister of Trade, Industry and Competition, Ms Nomalungelo Gina and member of parliament, Mr Sifiso Buthelezi.
Enquiries:
Bongani Lukhele – Director: Media Relations
Tel: (012) 394 1643
Mobile: 079 5083 457
WhatsApp: 074 2998 512
E-mail: BLukhele@thedtic.gov.za
Issued by: The Department of Trade, Industry and Competition (the dtic)
Follow us on Twitter: @the_dti
Share this: