The Deputy Minister of Trade, Industry and Competition, Ms Nomalungelo Gina has donated agricultural implements and Christmas hampers to elderly citizens and the youth of Mkhuze Constituency which is under the Jozini Municipality in KwaZulu-Natal.
The Jozini Municipality, which is largely dependent on agriculture, lies in deep rural areas of KwaZulu-Natal. The area has seen a rise in flight of economically active youth who migrate to far developed areas like Durban and Gauteng in search of job opportunities, leaving behind the elderly to care for school going children.
"It is as a result of the community's dependence on subsistence agricultural activities that we took it upon ourselves to lend a helping hand to this community, so as to help uplift them into becoming better equipped with necessary equipment to enable them to produce substantial crops," said Gina.
She added that the pressures of hunger during this season of Christmas period tend to be felt more significantly, especially for the orphans and senior citizens. This is a period where families gather together and celebrate through various forms.
"It is for this reason that I have adopted a programme to support these families with basic food packs, seedlings and agricultural equipment as a form of encouragement to continue with food gardens," noted Gina.
The occasion was reinforced by the attendance of the MEC for Sports, Arts and Culture Miss Hlengiwe Mavimbela, Mkhanyakude District Mayor Solomon Mkhombo with the Local Mayor of Jozini municipality, Mr Delani Mabika and Provincial Legislature Chief Whip Mr Super Zuma. The Department of Health used the occasion to educate the elders and the youth in terms of COVID-19 regulations as enunciated by the President recently, especially during this festive season whereby the second wave is upon us.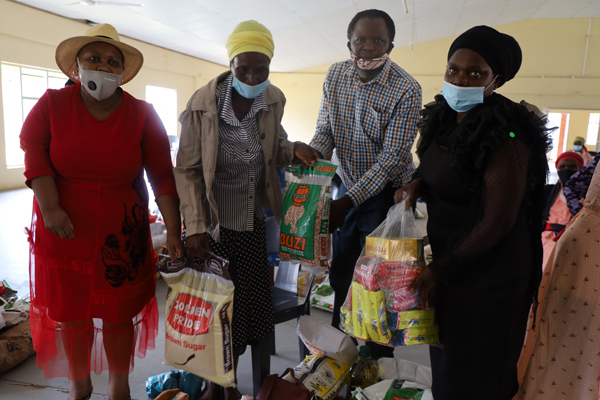 From left, Deputy Minister Gina, one of the beneficiaries, Councillor Msweli, and community leader Ms Nkwanyana
Enquiries:
Sidwell Medupe-Departmental Spokesperson
Tel: (012) 394 1650
Mobile: 079 492 1774
E-mail: MSMedupe@thedtic.gov.za
Issued by: The Department of Trade, Industry and Competition (thedtic)
Follow us on Twitter: @the_dti
Share this: