Deputy Minister Majola Supports Plans to Expand the East London IDZ
The Deputy Minister of Trade and Industry, Mr Fikile Majola, says he is encouraged by the successes of the East London Industrial Development Zone (ELIDZ) in the Eastern Cape. He said this after a meeting with the MEC for Finance, Economic Development, Environmental Affairs and Tourism in the Eastern Cape, Mr Mlungisi Gerald Mvoko, held at the IDZ headquarters in East London.

Majola was in the province to interact with a number of stakeholders to familiarise himself with various programmes aimed at boosting the economy, but also to understand the challenges faced by the Small and Medium Enterprise (SMME) sector. He also specifically had an interest in discussing with MEC Mvoko, the performance of the East London IDZ, Special Economic Zones (SEZs) and the revitalisation of industrial parks, to ensure they run efficiently for the benefit of the provincial and South African economy.

Majola is visiting these strategic sites across the country, to assess operations, and to identify the need for intervention to ensure they fully benefit the economy of the country.

Since its inception, the East London IDZ has succeeded in attracting up to R4.4 billion in private investments, in the process creating over 4000 jobs. The IDZ plans to expand its operations through additional investments additional project to create 1300 jobs in the near future.

Majola says he has noted that the East London IDZ has plans for expansion by extending its footprint into the Berlin area.

"With the kind of plans they have, it is clear they are going to run out of space. They are a successful IDZ and their work is already commendable and as government we should support the expansion plans because they are going to grow industries and create new jobs thus ensuring our economy grow," said Majola.

In addition to discussing the Dimbaza Industrial Park located close to King William's Town, Majola also visited the park, to assess all rehabilitation work being done there.  He has pledged to further engage MEC Mvoko to discuss how national government can assist in supporting all development work.

Some of the key priorities in the revitalisation of the Dimbaza Industrial Park are infrastructure development in areas such as storm water drainage, roads, electricity supply.

Majola described the meeting with MEC Mvoko as fruitful, but added that there was need for more strategic meetings, to ensure that moving forward, there is a common understanding about how best to grow the economy, and at a fast rate.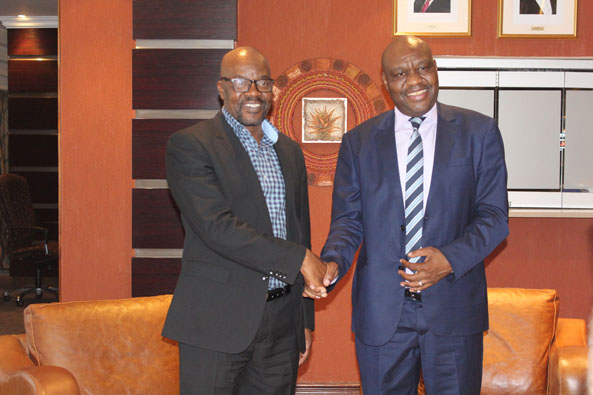 Deputy Minister Majola and MEC Mvoko
Enquiries:
Sidwell Medupe-Departmental Spokesperson
Tel: (012) 394 1650
Mobile: 079 492 1774
E-mail: MSMedupe@thedti.gov.za
Issued by: The Department of Trade and Industry
Follow us on Twitter: @the_dti
Share this: