DRC Beckons for MP's Electrical Engineering Company
The Business Development Manager responsible for Africa at Power Plant Electrical Technologies (PPE Tech), Mr Shawn Shanahan says their Mbombela-based electrical engineering and construction firm is aiming to secure more business opportunities during the 15th DRC Mining Week scheduled to take place in Lubumbashi, Democratic Republic of Congo from 19-21 June 2019. The participation of the company is funded by the Department of Trade and Industry (the dti) through its Export Marketing and Investment Assistance Scheme. The objective of the scheme is to develop export markets for South African products and services and to recruit new foreign direct investment into the country.

DRC Mining Week is the largest mining and industrial platform in the DRC, bringing together over 3000 international professionals and local stakeholders from more than 50 countries, aiming to explore and showcase the vast investment opportunities in the mining sector.

"This is an enormous opportunity for our business to further increase its brand footprint into the DRC market and beyond. I expect to meet other captains of the industry mainly in the areas of mining and construction because that will enable us to trade effectively with each other. However, our primary intention is to play a major role in the development of the Kamoa mines such as Kakula, Kansoko and Kico, through provision of our high quality electrical devices. We also want to strengthen our relations with one Canadian mining company known as Ivanhoe which is located in the Lualaba province," says Shanahan.

Shanahan further highlights that they have also set their sight on learning how to improve their business to adapt to the digital transformation.

"As we continue being recognised as one of the leading companies in the electricity and construction space it is also important that we keep up with the times, and the mining week presents an opportunity to further understand how to be on par with other international countries that are already exposed to the Fourth Industrial Revolution (4IR)," he adds.

PPE Tech has been in the business for the past twenty-years providing electrical engineering, manufacturing and commissioning services which comprises of electrical network modelling, earthing system tests, plant instrumentation automation, power generation solutions as well as solar powered installations, to mining and construction projects.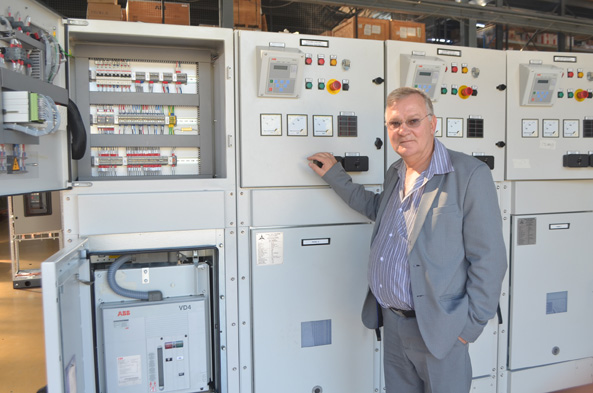 Mr Shawn Shanahan of PPE Tech leaning against a distribution transformer that will be displayed in Lubumbashi during the mining week.
Enquiries:
Sidwell Medupe-Departmental Spokesperson
Tel: (012) 394 1650
Mobile: 079 492 1774
E-mail: MSMedupe@thedti.gov.za
Issued by: The Department of Trade and Industry
Follow us on Twitter: @the_dti
Share this: