Establishment of Production Facility Will Assist in Creation of Jobs
The installation of new equipment at the Ekurhuleni East Technical Vocational Education and Training (TVET) College will go a long way in transforming the economy and creating jobs. This was said by The Deputy Minister of Trade and Industry, Mr Fikile Majola who was addressing scores of local businesspeople and students in Springs, Gauteng.

The event marked the official launch of the Specialised Industrial Facility (SIF) by the Department of Trade and Industry (the dti) at a cost of R1.8 million from African Development Bank (AfDB). The SIFs are part of the department's pilot project aimed at supporting skills development for students and provide technology access to Small, Medium and Micro Enterprises (SMMEs) to improve their productivity and quality of products.

"The Specialised Industrial Facility will impact the community positively. During our feasibility studies we found that most of the township and rural-based entrepreneurs have made many important innovations in carpentry, furniture-making, motor mechanics and brick making. However, the high costs of equipment excluded them from becoming industrialists. With the availability of the state-of-the-art equipment they will have an opportunity to expand their productions and create more employment prospects to boost the economy," said Majola.

The areas of focus that will be supported with efficient SIF equipment include construction, metal fabrication, jewellery manufacturing, agro-processing and vehicle maintenance based on their popularity among the neighbouring communities as well as their potential to create employment.

"The commitment showed by TVET colleges in hosting these SIFs represents a significant stride of our collaborative efforts towards developing emerging entrepreneurs particularly from previously disadvantaged communities. Going forward we will engage more stakeholders to pursue ways in which we can strengthen the capacity of these initiatives to drive the creation and sharing of local skills," added Majola.

Speaking at the same event, the Managing Director of the Springs-based Singenile Group, Mr Bheki Simelane could not contain his excitement after being identified as a beneficiary to use equipment at the centre.

"The partnership between the dti and the college came at an opportune time when we needed to expand our production. We are a company that is involved in sheet metal fabrication where we manufacture steel doors, frames and metal first aid boxes. We are confident that our business will gain traction and that will enable us to contribute to the growth of township economy," said Simelane.

He added that his company currently employs six people and has set its sight on increasing its footprint beyond the borders of South Africa with keen interest in Kenya.

Following the successful launch in Gauteng, the dti will forge ahead to launch three more pilot centres in Eastern Cape, Limpopo and KwaZulu-Natal.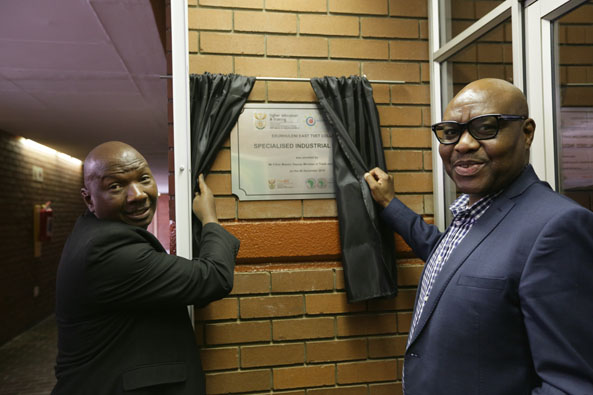 The Deputy Minister of Trade and Industry, Mr Fikile Majola and the Deputy Principal of Ekurhuleni East TVET College, Mr Itumeleng Nevhutanda unveiling the plaque to mark the official opening of the Specialised Industrial Facility.
Enquiries:
Sidwell Medupe-Departmental Spokesperson
Tel: (012) 394 1650
Mobile: 079 492 1774
Email: MSMedupe@thedti.gov.za
Issued by: The Department of Trade and Industry
Follow us on Twitter: @the_dti
Share this: