The Deputy Minister of Trade, Industry and Competition, Mr Fikile Majola says the concession agreement awarded to MTP Aviation Solutions by the Lesedi Local Municipality must benefit a significant percentage of communities that reside in and around the facility as well. Majola said this during the award ceremony that took place in Heidelberg.
The Lesedi Local Municipality awarded a 60-year concession to MTP Aviation Solutions for the design, development, operation and management of the Heidelberg Aerodrome. The Heidelberg Aerodrome Development will be developed in accordance with approved 60-year master plan with strong emphasis on air cargo.
The benefits of the initial estimated construction cost of R7,8 billion must also reach and empower the community of Lesedi.
Majola asserted that it should become common practice to involve communities in investment projects that will have an impact on their existence.
"For example, in the Tshwane Special Economic Zone, which we launched recently, we moved the shareholding of local entrepreneurs from 30% to 47% of the R15.8 billion. So we need to do the same with the Heidelberg concession, so that communities can also feel as owners of this particular project, because the success of this project is their success as well," he said.
The development is included in the proposed Special Economic Zone (SEZ) for Sedibeng Region which is expected to be declared by the year 2023. The development will include the following planned development zones: trade zones, agri zone, airport city; and aviation platform, in the SEZ environment.
"It is expected that the development will serve as a catalyst for the development of the regional economy of Sedibeng Region and Lesedi Local Municipality with major contribution to job creation in the Region," said Majola.
The Executive Mayor of the Lesedi Local Municipality, Councillor Lerato Maloka said this economic injection was definitely going to benefit the community of Leseding.
"We are really looking forward to economic opportunities and skills transfer opportunities that will be the result of this project. This is certainly one of the biggest investment projects in our municipality, more especially during these turbulent economic times that have been exacerbated by the COVID pandemic. This investment provides an opportunity to take this municipality and its residents forward," she said.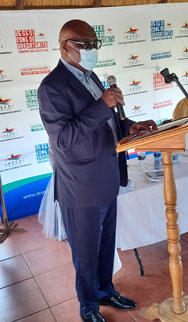 The Deputy Minister of Trade, Industry and Competition, Mr Fikile Majola delivering the keynote address during the launch of the concession agreement between Leseding Local Municipality and MTP Aviation Solutions.
Enquiries:
Sidwell Medupe-Departmental Spokesperson
Tel: (012) 394 1650
Mobile: 079 492 1774
E-mail: MSMedupe@thedti.gov.za
Issued by: The Department of Trade, Industry and Competition
Follow us on Twitter: @the_dti
Share this: