It is difficult to miss the passion in Mr Benny Serepong, as he talks about the involvement of his company in the construction of the Tshwane Automotive Special Economic Zone (TASEZ).  He is energised by the fast pace on site, as all players work tirelessly to meet the June 2021 deadline for completion, and he hopes the project contributes towards changing and accelerating the pace at which infrastructure projects are done in the country.
Having been in the construction business for the past 18 years, his company, Moago Construction, is one of the small business enterprises that are benefiting through sub-contracting opportunities in the TASEZ initiative.
What is being built is a massive Special Economic Zone that will house a number of automotive component manufacturers, who will supply parts to Ford Motors Company South Africa (FMCSA).  This will ultimately boost Ford's ambition to become the world's largest Ford Ranger pickup plant.
President Cyril Ramaphosa launched this R4.3 billion initiative in November last year. A project brings together three spheres of government, namely; the Department of Trade, Industry and Competition (the dtic), Gauteng Provincial Government and the City of Tshwane in a partnership with the private sector through Ford.
The SEZ is situated next to Ford headquarters in Silverton near Mamelodi and Nellmapius townships.
Serepong's Moago Construction was recently appointed for a short-term contract to do bulk earthworks at the construction site.  He is passionate about construction, and credits his uncle for infusing the love for the industry from a young age. He learnt the skills and tricks of the trade while working for him to make ends meet for his poor family.  He tried to refocus his attention elsewhere and to make a living differently later, by studying Industrial Psychology up to Honours level. He further pursued Leadership Development studies with the INSEAD Business School in France, but found it difficult to resist the urge to follow his first love – construction.
The TASEZ contract has enabled Serepong's company to offer short-term employment to 39 people; 70% are from the local areas of Mamelodi and Nellmapius.
"The workers we have employed are a blend of unskilled, semi-skilled and fully skilled individuals on the ground to do operations and administration work on site. The contract also affords us to bring in 30% of our own workers, so I have also brought in professionals from my own company, among them, civil engineers and quantity surveyors."
Moago Construction is a grade 7 level company through which Serepong has garnered extensive experience building luxury private houses at some of Gauteng suburbs. He has also been involved in several government projects over the years, building schools, libraries and health facilities.
He believes the TASEZ is an excellent initiative, which will contribute to economic growth and job creation in the country.
"Private-Public Partnerships such as this one are critical in igniting the economy of the country. I am happy to see that the local community was consulted extensively in this project. It has made our work easy as we have not experienced any interruptions due to public complaints. I feel energised by the tight deadlines set for completion of this work. Staff morale on site is quite high and I believe strongly that as a country we should adopt this fast pace in all infrastructure projects and make it a dominant culture," says Serepong.
During a site inspection in September, the Director-General of the dtic, Mr Lionel October, revealed that all plans were on track to finish all construction work by June next year. There has also been a very clear direction by government to ensure the project opens up opportunities for Small, Micro and Medium Enterprises (SMMEs) operators with an estimated R25 million set aside for their training, mentorship and support.
In this project, government's localisation policy imperatives have been surpassed and currently 45% local businesses have been empowered in the construction phase.
Once operational, the SEZ is expected to create more than 8 500 jobs and up to 70% of those jobs will go to local residents of Mamelodi and surrounding areas in Pretoria.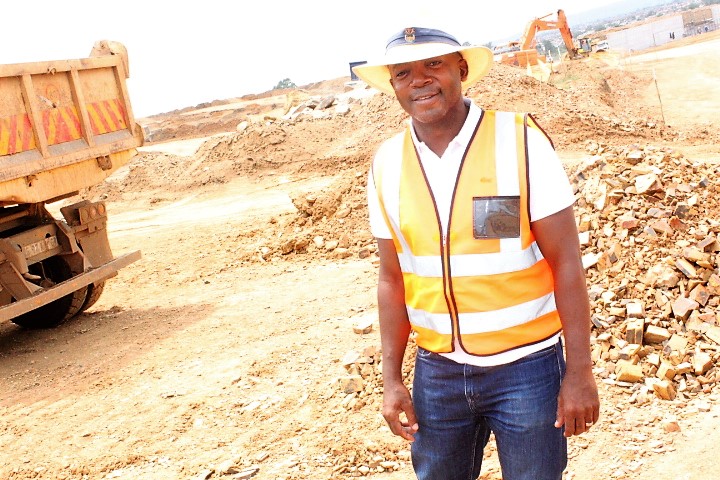 Mr Benny Serepong, Director of Moago Construction, at the TASEZ construction site where his company is doing earthworks in preparation for the building of the Special Economic Zone.
Enquiries:
Sidwell Medupe-Departmental Spokesperson
Tel: (012) 394 1650
Mobile: 079 492 1774
E-mail: MSMedupe@thedti.gov.za
Issued by: The Department of Trade, Industry and Competition (the dtic)
Follow us on Twitter: @the_dti
Share this: