Kwazulu-Natal companies to spice up the Gulfood exhibition
Two KwaZulu-Natal based companies, Goodlife Organic and Great Heart Africa Foods are gearing up to spice up the Gulfood Exhibition scheduled to take place in Dubai, United Arab Emirates from 17 – 22 February 2019.

The Gulfood is the leading food and beverage exhibition and attracts a large number of participants from the Middle East and the world at large. The two companies received financial support from the Department of Trade and Industry (the dti) to participate in the exhibition.

The Director and co-owner of Goodlife Organic, Mr Eli Coelho says the specialised certified organic product company is going to the Gulfood with an open mind to learn and also to network with relevant distributors in the Middle East.

"This will be our second exhibition with the dti, therefore our aim is to implement some of the lessons and great leads we had in Sweden last year.  As the Gulfood is a big show with many players in the food industry, we want to show that South Africa has the capacity to produce world-class quality products that are organic and healthy," says Coelho.

The Hillcrest-based company already exports some of their organic spices, sauces, cocoa and oats to Qatar, Seychelles, Reunion Island, Botswana and Namibia.

"We are also represented in independent health shops like Dischem and have a great online presence. We had a passion for organic and believed that there is an opportunity in the market for organic products in South Africa and the world. Even big corporate are suddenly realising they have to change to plant-based food and organic is part of the change" adds Coelho.

The founder of Great Heart Africa Foods in Umhlanga Rocks, Ms Doris Macrae says they are very excited about the exhibition because Gulfood is becoming more and more important every year with a forever increasing number of visitors all over the world.

"We have a listing with one of the leading supermarkets in the Middle East due to our previous participation at Gulfood. I would like to put a lot of focus and effort into getting the brand known by marketing it and to also support sales in the few stores that already sell our products," says Macrae.

She adds that her company wants to broaden their brand on their sauces, avocado oils and African chakalaka products. This will ensure that they remain competitive and expand into other leading chain stores.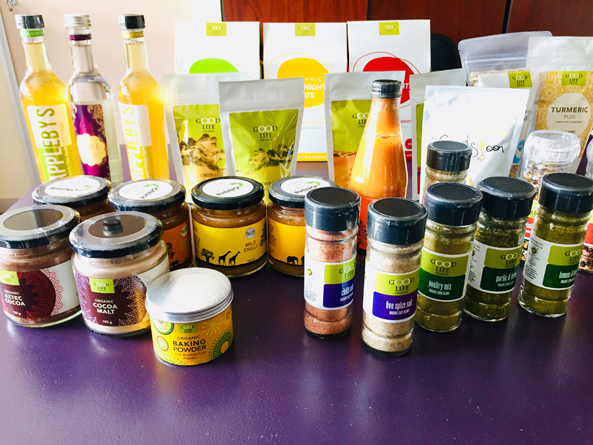 Goodlife Organic products that will be showcased at the Gulfood Exhibition in Dubai.
Enquiries:
Sidwell Medupe-Departmental Spokesperson
Tel: (012) 394 1650
Mobile: 079 492 1774
E-mail: MSMedupe@thedti.gov.za
Issued by: The Department of Trade and Industry
Follow us on Twitter: @the_dti
Share this: