KZN Food Companies to Showcase Products at Africa Big 7 Exhibition
Two KwaZulu-Natal companies from the food and beverage sector will showcase their capabilities at the 17th Africa Big 7 Exhibition that will take place at the Gallagher Convention Centre, in Midrand from 23 – 25 June 2019. A sauce manufacturing company, Great Hearts of Africa, and confectionery manufacturers, Wedgewood Nougat are part of the 23 companies funded by the Department of Trade and Industry (the dti) through its Export Marketing and Investment Assistance (EMIA) Scheme to showcase at the Africa Big 7 exhibition

Africa Big 7 is the annual meeting place for food and beverage professionals across the continent who visit to source, meet and gain insight into the latest developments in the industry. The trade show is the only food and beverage show in Africa and brings together hundreds of global buyers from significant segments of the agro-processing industry's value chain.

The Founder of Umhlanga based Great Hearts of Africa, the manufacturers of chilli sauces, marinades, chakalaka, avocado oil and berry nectars, Ms Doris Macrae, says their objective to participate in the show is to establish new market and create brand awareness for their products and services.

"Having realised that most of our biggest clients are from Europe and Gulf countries, we thought it is important that we use the opportunity of participating in the show to showcase our products in order attract the local market and the entire African continent," says Macrae.

Macrae says she has arranged meetings with businesspeople from Zambia, Iran, Canada and the United States of America. She is confident meetings will result in her company scoring business opportunities during the three-day show.

The Marketing Manager of Wedgewood Nougat, Ms Jen Woodley says the family business has set its sight on meeting potential distributors in the retail and hospitality industries.

The Hilton-based firm produces finest quality soft honey nougat, chocolates, nougat bars, and biscuits. It currently employs 80 people.

The Deputy Minister of Trade and Industry (the dti), Ms Nomalungelo Gina, has described the show as an opportunity for South African companies to join over 250 exhibitors from over 45 countries and to fly the South African flag in some niche food and beverage categories such as wines, ginger gemmer, sauces, soy products and preserved fruits.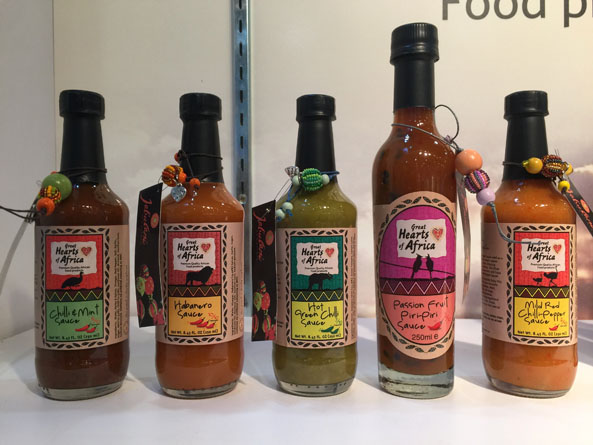 Some of the delicacies from Great Hearts of Africa that will be showcased during the Africa Big 7 Exhibition.
Enquiries:
Sidwell Medupe-Departmental Spokesperson
Tel: (012) 394 1650
Mobile: 079 492 1774
E-mail: MSMedupe@thedti.gov.za
Issued by: The Department of Trade and Industry
Follow us on Twitter: @the_dti
Share this: