Mathale urges Harding resident to work with Government to better their lives
The Deputy Minister of Small Business Development, Mr Cassel Mathale has urged the residents of Harding to work closely with government and take advantage of its business support offerings in order to improve their lives for the better. Mathale was speaking at an imbizo that was hosted by the Department of Trade and Industry (the dti) in partnership with the Department of Small Business Development, Department of Economic Development, Tourism and Environmental Affairs in KwaZulu-Natal; and the Umuziwabantu Local Municipality.

The purpose of the imbizo was to share information with the residents of Harding, particularly those that are in business and aspirant entrepreneurs, about the support that various government departments and entities provide to the country's businesspeople.

"We have collaborated as all the three spheres of government to organise this kind of an interaction with the community of Harding in order to empower you with information on how government can assist you to better your lives. We urge you to work with government as the triple challenges of poverty, inequality and unemployment can only be successfully eradicated if we are working together and pulling in the same direction," said Mathale.

He cited the official opening of the Harding market stalls and the hand-over of equipment to informal traders operating in the market last Thursday as an example of how government support can boost the fortunes of people who are already doing something to help themselves.

"We want people staying in rural areas to have access to the same information that people in the big cities have. Government support for business needs to be accessed by small businesses and cooperatives throughout the country in order to assist them create employment opportunities for the communities they are located in," added Mathale.

The Deputy Minister of Agriculture, Forestry and Fisheries, Mr Sifiso Buthelezi urged the community of Harding to use their fertile land for agricultural production such as livestock and crops.

"The land is this area is fertile and suitable for the production of various agricultural products and for livestock. It is about time that you move from subsistence farming to agri-business where your farming activities become a productive, profitable and sustainable business. Government provides assistance to people who want to turn their farms into businesses and this can go a long way in creating employment and eradicating poverty for communities in the rural areas," said Buthelezi.

The MEC for Economic Development, Tourism and Environmental Affairs in KwaZulu-Natal, Mr Sihle Zikalala also addressed the imbizo. He responded to a variety of issues that were raised by members of the community.  He assured them that all three spheres of government would be working together to support community-initiated business projects in Harding.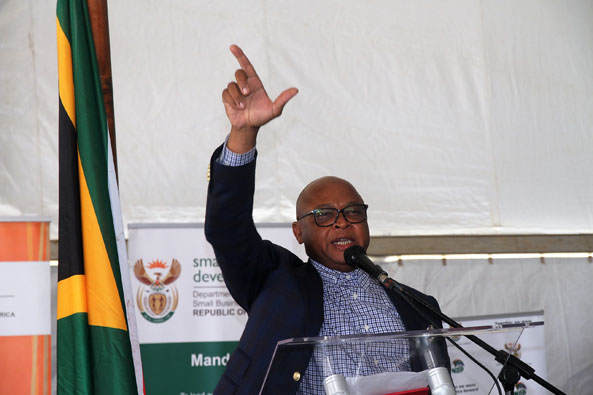 The Deputy Minister of Small Business Development, Mr Cassel Mathale addressing residents of Harding during the imbizo.
Enquiries:
Mr Sidwell Medupe –  Spokesperson
Department of Trade and Industry
Mobile: 079 492 1774
Mr Noko Manyelo –  Spokesperson
Department of Small Business Development
Mobile: 060 972 5221
Issued by: The Department of Trade and Industry, Department of Small Business Development and KwaZulu-Natal's Department of Economic Development, Tourism and Environmental Affairs
Share this: