North West Business people Head to Australia to Search for Market
The Rustenburg-based North West businesspeople who will leave for Perth, Australia next month to search for a market for their products and services are confident that their trip will yield positive results that will enable them to expand their footprint. Ms Motlapele Molefi and Mr Elliot Mnisi will be part of the 25-member South African business delegation that will participate in the Outward Selling Mission to Australia from 1-7 September 2019.

The mission is organised and funded by the Department of Trade and Industry (the dti) through its Export Marketing and Investment Assistance Scheme. The objective of the scheme is to develop export markets for South African products and services and to recruit new foreign direct investment into the country.

The mission will consist of seminars, business-to-business meetings and site visits. It coincides with the popular Africa Down Under international conference and exhibition where the South African companies will also showcase their products and services, and attend the conference.

Molefi, who is the Executive Director of Modi Mining, says the mission will provide her with an opportunity to pursue her ambition of expanding her company's market to the rest of Africa.

"Many mining ministers from various African countries attend the Africa Down Under Conference. That will provide an opportunity for us to learn about opportunities that are available in other African countries that we as a company can explore. We are particularly targeting the African market as we feel the continent has a lot of potential in mining. One of our company representatives was in Zambia last week with another delegation led by the dti. The Australian mining sector is also big and presents growth opportunities for the South African companies operating in the mining sector," says Molefi.

Molefi's company, which employs more than 580 people, performs contract mining services specialising in underground mining and open cast mining. It also manufactures blasting barricades used by the mines and also distributes environmentally-friendly products such as soil stabilisaton and dust control products.

Mnisi is the Chief Executive Offer and founder of Rhimak Holdings which is an engineering, procurement and construction management company that is specialising in turnkey construction projects for the mining industry and the private sector.

He is also determined to take advantage of the heightened mining activity in Australia and explore export opportunities for his company's products and services to the country in order to be an important player in that market.

"We are positive that we will find a market in Australia for a variety of our products such as conveyor belts, steel, and trackless mobile machinery that we manufacture, and services such as mining, civil engineering, plant optimisation and design, that we provide. But our main purpose of travelling to Australia is to market the new product in our portfolio called minecrete. It is a proudly South African product approved by the Department of Mineral Resources and Energy which will improve safety in underground mining. It solves the problem of fall of ground as it prevents oxidation underground," says Mnisi.

Rhimak employs 128 people currently and is in the process of expanding its operations to Limpopo. Mnisi reckons that finding a market in Australia for the company's products and services will enable it to contribute to job creation, economic growth and poverty alleviation in South Africa.

"Finding an export market means the production of our manufactured products will increase and our services will be in high demand. Consequently, we will be required to increase production and personnel to service the new market. The company will grow as more job opportunities will be created and the it will contribute in pumping foreign revenue into the country for the benefit of all," adds Mnisi.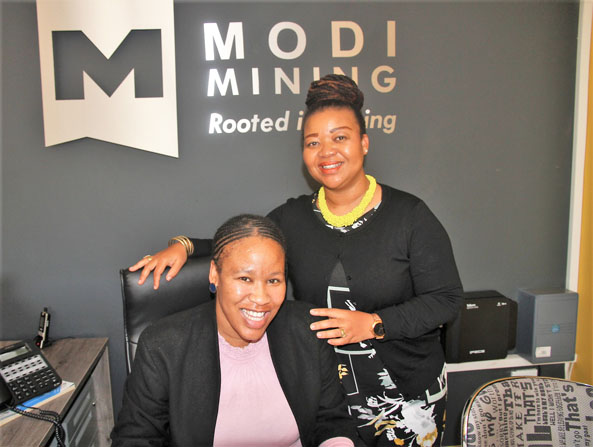 The Executive Director of Modi Mining, Ms Motlapele Molefi, with her company's Office Administrator, Ms Tshepang Mosimanyana,
Enquiries:
Sidwell Medupe-Departmental Spokesperson
Tel: (012) 394 1650
Mobile: 079 492 1774
E-mail: MSMedupe@thedti.gov.za
Issued by: The Department of Trade and Industry
Follow us on Twitter: @the_dti
Share this: