Northern Cape companies cheerful about Dubai Exhibition
2019-02-18
The Chief Operating Officer of Kimberly-based Beefmaster, Mr Gert Blignaut says his main target for the Gulfood Exhibition that is taking place in Dubai, United Arab Emirates from today until 21 February 2019 is to strengthen their existing client partnerships and also establish new market to export goods and services to Middle East and beyond. Beefmaster is a privately-owned cattle farm that produces beef products.

The Gulfood is the leading food and beverage exhibition and attracts a large number of participants from the Middle East and the world at large.

Blignaut says this year will be his second trip to the Gulfood exhibition courtesy of the Department of Trade and Industry (the dti), but six in total as he travelled before to attend other shows through self-funding. He is adamant of bolstering his already established market and scoring new clients.

"Our research has shown that the Gulf countries import almost 90% of their food requirements due to water shortages and lack of arable land, and these conditions make the growth and outlook of the food sector a very important issue for these countries. As Beefmaster we understand the requirements of this unique export market, and it gives us an edge to supply large quantities to a wide range of export markets with our tailor-made meat products. For the past four years our beef production has been doing well in countries like Kuwait, Qatar, Saudi Arabia and Oman," says Blignaut.

Blignaut further highlights how instrumental government is in boosting emerging businesses to reach their full potential within the market.

"We believe that public-private partnerships will go a long way to help strengthen the local farming industry and create a trustworthy export industry that is renowned for its beef quality products. It is only by working together with government, that we will be able to take advantage of export markets. Platforms such as these ensure that the meat industry remains profitable, a stable source of revenue and employment, and stimulates the growth of commercial and emerging farmers," he concludes

The Marketing Director of Fruit du Sud, Ms Tanya Alston says her dry fruit manufacturing company that produces raisins is upbeat to crack the Middle East market and expand on their African footprint.

Alston adds that the Bloemsmond firm is extremely grateful for the opportunity to exhibit their products and represent her country at the Gulfood as this will boost her company's aspirations of making big strides in the domestic and international dried fruit market.

The two companies received financial support from (the dti) to participate at the exhibition.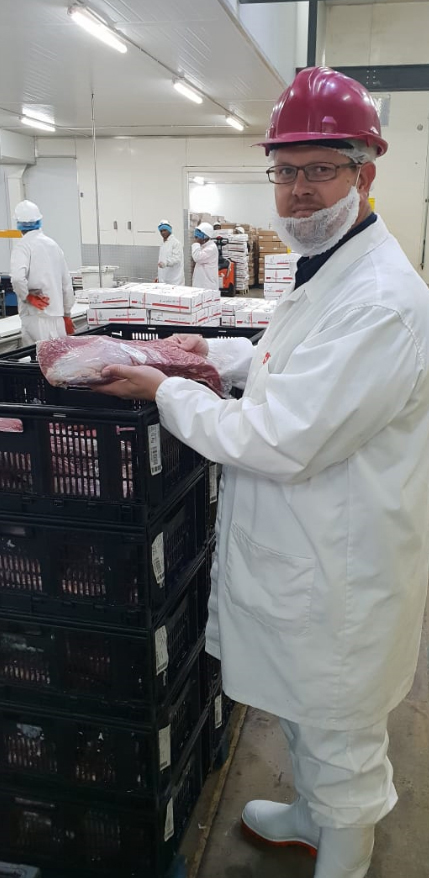 Mr Gert Blignaut of Beefmaster at his factory in Kimberley, Northern Cape
Enquiries:
Sidwell Medupe-Departmental Spokesperson
Tel: (012) 394 1650
Mobile: 079 492 1774
E-mail: MSMedupe@thedti.gov.za
Issued by: The Department of Trade and Industry
Follow us on Twitter: @the_dti
Share this: