Nutaria Nuts, a leading manufacturer and exporter of premium quality macadamia nuts, will be embarking on its mission to capture the Japanese market. The company, whose operations are based in Gauteng and Limpopo, aims to establish itself as a major player in Japan's nut industry by leveraging its expertise in sourcing, processing, and delivering high-quality macadamia nuts and oils. Nutaria is part of a twenty-three-member business delegation that will be jetting off to Japan to showcase South African packaged and processed foods at the 48th International Food and Beverage Exhibition (FOODEX) in Tokyo, Japan, from 7-10 March 2023.
The Founder and Chief Executive Officer of Nutaria, Mr Thendo Tshivhengwa explains that Nutaria specialises in the export, import and distribution of macadamia nuts.
"We are thrilled to embark on this exciting mission to Japan. Japan ranks as one of the highest consumers of macadamia nuts in Asia and we are confident that our premium quality products will resonate with its consumers. We are certain that there are plenty of opportunities to unearth in this market. We are also grateful to the Department of Trade, Industry and Competition (the dtic) for supporting our mission through the Export, Marketing and Investment Assistance (EMIA) Scheme," he says.
Tshivhengwa adds that Nutaria is a full-service macadamia nut company with an interest in increasing its footprint across the world.
"Throughout our ten years in business, we have forged strong partnerships with a diverse range of clients and suppliers. We source our nuts from emerging black farmers based in Limpopo and Mpumalanga. These farmers are beneficiaries of the government's land reform programme. Almost two-hundred black families to be precise, and this is unprecedented in the South African macadamia industry. Our nuts are processed under strict quality control measures and packaged with care to ensure maximum freshness and flavour. We are confident that our products will meet the high standards of Japanese consumers and establish Nutaria as a trusted and preferred brand in the Japanese market. To date, we have exported our products to The Netherlands, Germany, France and Lithuania. We also have import partnerships in Malawi, Zimbabwe and Kenya," says Tshivhengwa.
Nutaria Nuts will showcase its range of products at FOODEX in Japan and will engage with potential distributors, importers, retailers, wholesalers, food processors, and confectionaries and bakeries.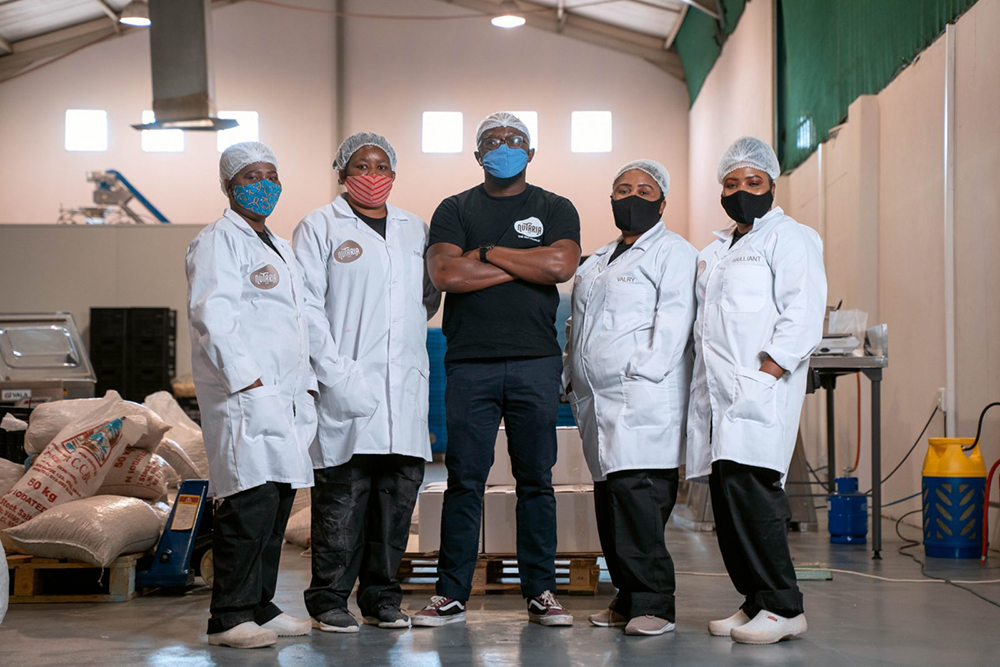 Founder and Chief Executive Officer of Nutaria, Mr Thendo Tshivhengwa (Centre), flanked by Nutaria staff members.
Enquiries:
Bongani Lukhele – Director: Media Relations
Tel: (012) 394 1643
Mobile: 079 5083 457
WhatsApp: 074 2998 512
E-mail: BLukhele@thedtic.gov.za
Issued by: The Department of Trade, Industry and Competition (the dtic)
Follow us on Twitter: @the_dti
Share this: