A partnership to build and strengthen the steel industry has been sealed with the signing of the Steel and Metal Fabrication Master Plan 1.0. The signing ceremony took place at Hall Longmore's factory in Wadeville, Ekurhuleni. Speaking at the ceremony the Minister of Trade, Industry and Competition, Ebrahim Patel said that the South African Steel and Metal Fabrication Master Plan 1.0 will help guide the stabilisation and progress of the steel industry.
The Masterplan  sets out practical steps that must be implemented progressively by all stakeholders that have made commitments. There are six priority areas that the stakeholders across the value-chain in the steel sector have committed to working together towards, namely: Demand-side measures; Supply-side measures; African Continental Free Trade Area Agreement; Transformation; Human Resources and a Shared Vision and Resource Mobilisation and the Steel Fund.
Since, March 2021 stakeholders have commenced implementation and some progress has been noted with Transnet agreeing to make scrap metal available to local consumers, the Auto Original Equipment Manufacturers (OEMs) on a localisation roadmap, Eskom's load shedding agreement and addressing illegal and illicit trade by SARS' Interagency Working Group.
The  Master Plan is a consolidation of feedback from the industry, labour and regulators. Its emphasis is on the concrete commitments by each of the major stakeholders: investors/manufacturers throughout the different steel and engineering value-chains; organised labour; supplier and customer industries; and public sector entities.
Doron Barnes, Scaw Metals' CEO and Director of the Barnes Group, stated that "it is always easier to complain, blame and criticise rather than to put in meaningful effort to create sustainable and successful solutions. The South African Steel Industry has been in crisis and we came very close to losing some significant players which would have been devastating to SA. This unique facility (Hall Longman in Germiston, Gauteng) was planned to be closed in 2014, the plant was to be sold, dismantled and machinery exported. There is absolutely no way that anyone would have ever have replaced this facility in SA again. the dtic, via the Independent Development Corporation, stepped in and supported saving this facility and its industrial capacity. Since 2014, just over 230 000 tons of Electric Resistance Welded steel pipes  have been sold in SA which today would equate to nearly R5 billion worth of sales and  approximately 90 000 tons of pipe have been exported mainly to the United States of America (USA), which equates to export revenue earnings of approximately US$ 100 million,"
Patel said that the Steel Master Plan is a dynamic document that will make changes as and when necessary following the discussion at the Steel oversight council.
"Such changes will aim to take account of the developments in the industry, including internal and external factors which affect the industry," he said.
On highlighting achievements of the Master Plan to date, Patel said that the automotive industry was working on an import replacement strategy to purchase South African made steel to go into the manufacturing of cars locally.
"On electricity supply, there is an agreement with Eskom for a new arrangement around load shedding, that represents a fresh partnership, a sharing of resources in a more thoughtful way. On scrap metal, Transnet has received approval to deviate from its traditional processes on scrap metal to support government's intervention to ensure availability of scrap metal. Scrap metal from Transnet will be made available to local ferous and non-ferous scrap metal users only," said Patel.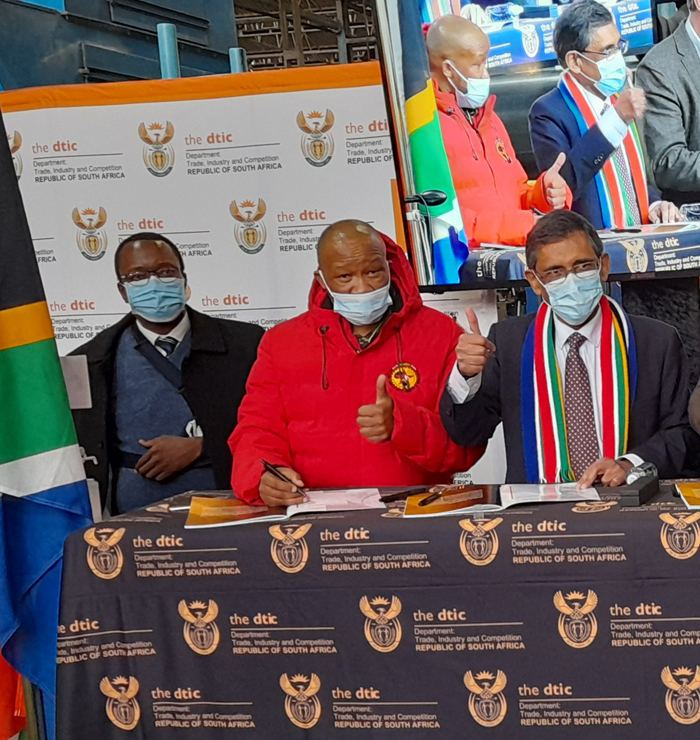 from L to R, Fabchem Mining CEO: Mr Freddy Mugeri , Numsa General Secretary, Mr Irvin Jim and Minister of the Department of Trade, Industry and Competition, Mr Ebrahim Patel during the signing of the Steel Master Plan.
Enquiries:
Sidwell Medupe-Departmental Spokesperson
Tel: (012) 394 1650
Mobile: 079 492 1774
E-mail: MSMedupe@thedtic.gov.za
Issued by: The Department of Trade, Industry and Competition
Follow us on Twitter: @the_dti
Share this: